Updated: Anderson issues order to Prince William County staff clean up debris from Occoquan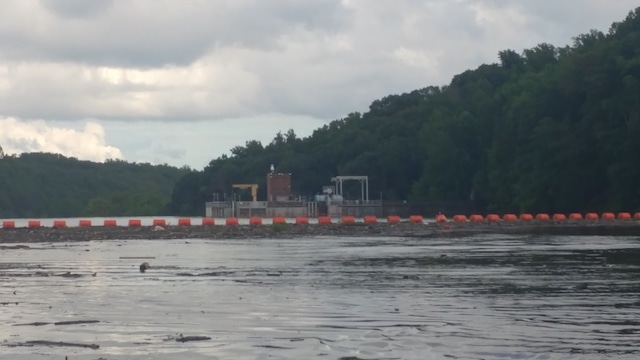 LAKE RIDGE, Va. — Last month's heavy rains have left a massive debris field in the Occoquan Reservoir, a drinking water source for eastern Prince William County. 
Now Prince William County Supervisor Ruth Anderson wants it cleaned up, and ordered Prince William County Government staff to get the job done. 
From a press release: 
Today, Occoquan District Supervisor Ruth Anderson issued a directive calling for PWC staff to initiate a working group to analyze the floating debris field and recommend solutions to remove the debris field currently in the Occoquan Reservoir by the Occoquan Dam. The working group will include County staff and representatives from the Town of Occoquan. The safety barrier, in place to stop boats from going over the dam, has created a stoppage of debris which would otherwise flow naturally over the dam. When the wind blows, it moves chunks of the debris field upstream and all over the Reservoir where the debris settles in coves. Not only is the debris hazardous to wildlife, but it is dangerous for boaters going up and down the waterway and could become a public health problem.

"After receiving multiple e-mails from residents living on the Reservoir about this problem, I decided to view the problem first hand. I went out with a local resident on a pontoon boat to analyze the situation. From piles of trash, gas cans, docks, boats and other human items to huge logs and tree branches, the public safety and environmental problems of this debris field became very real for me. For the safety of our boaters and our environment, we must work together with County staff, the Town of Occoquan, Fairfax Water and the local residents to clean up this debris and solve this problem" said Supervisor Anderson.

All of this debris is due to the tremendous amount of rain washing items into the Occoquan Reservoir. With the severe rain coming down over the last several weeks, and the Reservoir water moving very fast, debris very quickly washes down into the water. Any action taken to remove debris on the reservoir will have to involve the Fairfax County Water Authority since they have the authority and are accountable for the Occoquan Reservoir.
The reservoir is located just north of the Town of Occoquan on the Occoquan River. It's accessible from Lake Ridge Park on Cotton Mill Drive in Lake Ridge. 
Post Your Email Notices, Press Releases, Event Fliers, and Photos
The FREE email packed with local news
The FREE email packed with local news
The FREE email packed with local news
Sign Up