Three shooting suspects elude Stafford sheriff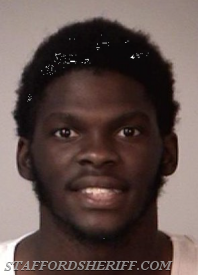 STAFFORD COUNTY — Authorities in Stafford County are searching for three men wanted in connection to a shooting Thursday night. The shooting took place in the same neighborhood as another shooting on June 25.  
From Stafford sheriff's office with information on the latest shooting that occurred Thursday, July 6: 
The Stafford County Sheriff's Office has identified and is searching for three suspects behind a shooting that occurred on Thursday night in north Stafford.

On the evening of July 5, 2018, deputies responded to a residence in the area of Minuteman Circle following reports of shots fired. Upon arrival, deputies discovered shell casings, a knife, and blood droplets in the area. Witnesses told deputies that they observed two males running out of the residence and into the woods.

While on scene, deputies were notified by dispatch that a male subject with two gunshot wounds had arrived at a local hospital. Deputies later confirmed he was the victim of the shooting.

The Sheriff's Office attempted to track the suspects using the drone team and K9 unit. In addition, several apartments were

evacuated; however, the suspects were not located.

During the investigation, detectives identified the suspects as Hayden Parrick, 20, of Stafford; Isaiah Keyes, 19, of Fredericksburg; and Fa-eez Gomda, 18, of Stafford.

Parrick is wanted for aggravated malicious wounding, use of a firearm in commission of a felony, and shooting/stabbing by mob. Keyes and Gomda are wanted for aggravated malicious wounding, conspiracy, and shooting/stabbing by mob. The suspects are believed to be armed and dangerous.

Anyone with information is asked to contact the Sheriff's Office at (540) 658-4400.
Regarding the July 6 shooting, Stafford County authorities have not identified the victim or provided the condition of the victim. They also have not provided any details about the moments leading up to the shooting.
As for the June 25 shooting, authorities have not provided any additional information about the victims, or any details of events prior to the shooting. 
In both cases, shooting victims took themselves to a hospital.
Post Your Email Notices, Press Releases, Event Fliers, and Photos
The FREE email packed with local news
The FREE email packed with local news
The FREE email packed with local news
Sign Up