Why learning music is beneficial for kids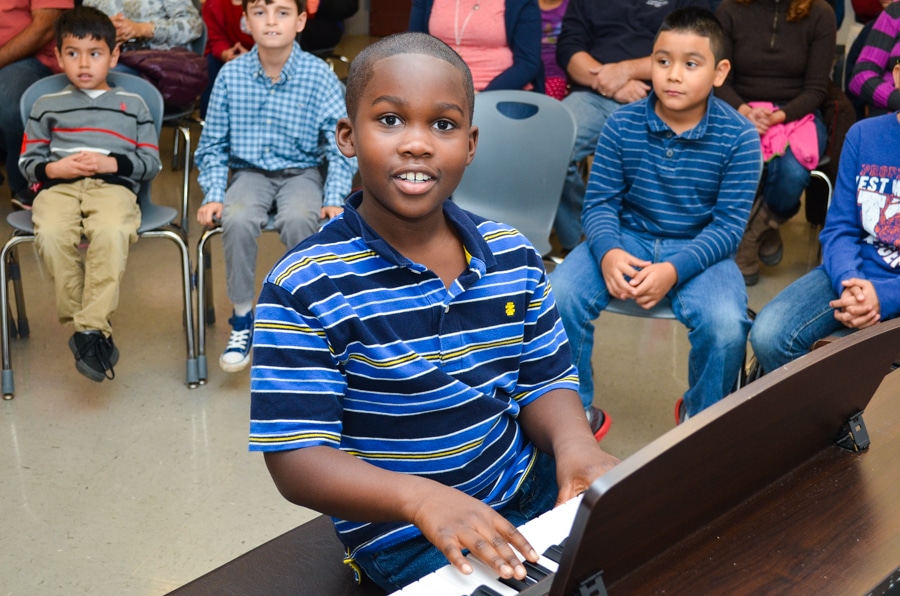 With music programs slowly losing funding in many schools across the nation, it is important to remember some of the benefits that come with learning about it and how to create it. For kids of any age, learning music can have positive effects on critical life aspects such as making friends, performing well in school, and as a stress reliever.
If your child shows interest in playing music, chances are they would be happy to be enrolled in a music program if their school does not offer one. Being in a program that is enjoyable could make it easier for your child to find other children in the class that enjoys music as much as yours. While your child is learning a new skill, they will also be making positive connections with other children who share the same interest. Knowing that your child is making new friends is something every parent loves.
For many, music is often used as a tool to relieve stress after a long day at work. You may find yourself more relaxed after listening to some of your favorite music either at work or at home. The same could be said about children if they learn to use it the same way. Children that come home from a stressful day at school may find some comfort in picking up an instrument and practicing some tunes. The key is to give them access to music.
A study published by Cristopher Johnson, professor of Music Education and Music Therapy, shows that children who have access to high-quality music programs score around 22 percent higher in English and 20 percent higher in math scores on standardized tests. This may be due to the need for focus, discipline, and patience that is necessary to learn music. If a child is able to develop these skills, the positive long-term effects that it could have in their education can be very beneficial.
At the Manassas Park Community Center, we have developed a set of introductory music programs to help understand its history and how to create it. Our Music Theory and Music Appreciation courses will help students become familiar with the basic building blocks of how music is created as they explore different genres throughout history. All Access members have full access to these courses at no additional cost, as well as one-on-one instrument lessons with our instructor. Now that the school year is ending, it is a perfect opportunity to help your child, or even yourself, learn the beautiful art of music!
The Manassas Park Community Center is located at 99 Adams Street in Manassas Park, VA. Managed by the City of Manassas Park Department of Parks and Recreation, the facility is home to basketball courts, a swimming pool, wellness areas, special events, and recreational classes. For more information visit us at ManassasParkCommunityCenter.com or call at 703-335-8872.
Post Your Email Notices, Press Releases, Event Fliers, and Photos
The FREE email packed with local news
The FREE email packed with local news
The FREE email packed with local news
Sign Up