Where to find bike racks refreshments pitt stops on Friday, Bike To Work Day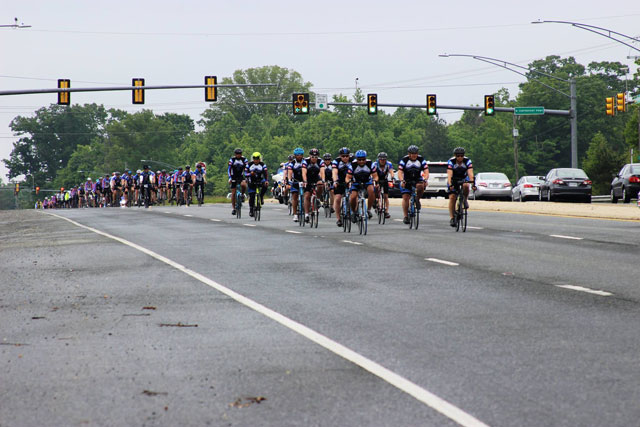 From a press release: 
Will you be one of the thousands of Washington-area residents who participate in Bike to Work Day on Friday, May 18?  Be one of the first 20,000 to register and attend a pit stop in D.C., MD, and VA to receive a free T-shirt, refreshments, and be entered into a raffle for a new bicycle.

Prince William area residents may want to consider biking to a nearby commuter lot and taking public transportation for the rest of their commute. Bike racks, which can accommodate two bikes at a time, are available on all Metro Direct, OmniLink and Cross County Connector buses.

OmniRide buses do not have bike racks, but bicycle amenities are available at these commuter lots:

Dale City
Horner Road
Telegraph Road
Lake Ridge at Minnieville Road
Lindendale
Old Bridge Road and Route 123
Portsmouth
PRTC Transit Center
Route 123 and I-95
Route 234 and Route 1
Cushing Road
Limestone

To encourage participation, the Prince William area will have 10 pit stops where bicyclists can pull over and have refreshments and enter prize drawings. The local pit stop locations and hours are:

Dumfries – Dumfries Town Hall/ Community Center, 17755 Main Street, 7:30 a.m. – 9:30 a.m.
Haymarket – Haymarket Bicycles, 4414 Costello Way, 6 a.m. – 9:30 a.m.
Manassas – George Mason University, Freedom Center Boulevard & University Boulevard, 6:30 a.m. – 9:30 a.m.
Manassas – Kelly Leadership Center at the intersection of the Route 234 bike trail, 6 a.m. – 9:30 a.m.
Manassas – Manassas VRE station, 9431 West Street, 6 a.m. – 9 a.m.
Manassas Park – Palisades Apartments, 8100 Palisades Circle on Manassas Drive (near Manassas Park VRE Station), 6 a.m. – 9 a.m.
Woodbridge – Chinn Aquatics and Fitness Center, near the intersection of the Prince William Parkway bike trail, 6 a.m. – 9 a.m.
Woodbridge – Rippon Landing VRE station, 15511 Farm Creek Drive, 6 a.m. – 9 a.m.
Woodbridge – Tackett's Mill Commuter Lot, Tackett's Mill Drive and Minnieville Road, 6:30 a.m. – 8:30 a.m.
Woodbridge – Woodbridge VRE station, 1040 Express Way, 6 a.m. – 9 a.m.

So get your bicycle ready, find a friend to ride with, and join in on the fun. Visit BiketoWorkMetroDC.org for information about improving your riding skills, finding a riding buddy, joining a commuter convoy and more.
Post Your Email Notices, Press Releases, Event Fliers, and Photos
The FREE email packed with local news
The FREE email packed with local news
The FREE email packed with local news
Sign Up