A sweet treat for two at Chick-fil-A Bristow: $5,000 in scholarship funds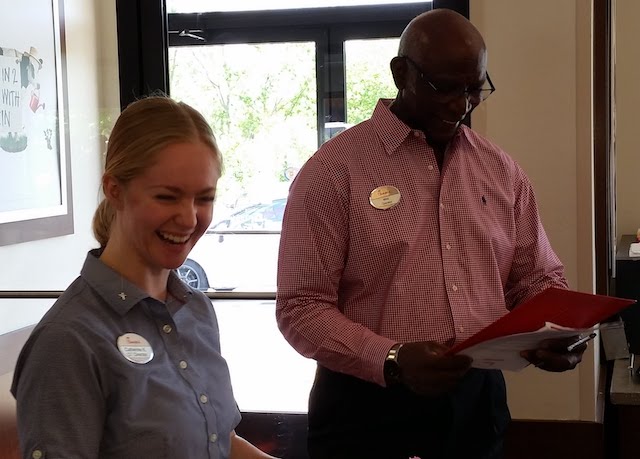 For two Chick-fil-A employees, earning a combined $5,000 in scholarship money was sweeter than the milkshakes sold behind the counter. 

Catherine Kifer, 19, and Lauren Purdue, 18, were awarded $2,500 each in scholarship funds by on Tuesday, May 8. The awardees' parents looked on, and the patrons who filled the restaurant applauded. 
Kifer is the Drive-Through Coordinator with two years of experience working at the restaurant, and Purdue works the drive-through and

front counter. 
The two co-workers applied together for the scholarships. Purdue, a soon-to-be graduate of Kettle Run High School in Fauquier County, came to Kifer, her supervisor, told her about the company scholarship and asked for a recommendation. 
"Wow, how do I write this," said Kifer, who said it was the first time anyone had asked her for a letter for a recommendation. 
She wrote it, and and, then decided she, too, would apply. 
After putting in two years at Northern Virginia Community College, Kifer will use the funds to transfer to Messiah College, a small Christian school in Mechanicsburg, Pa. to study psychology. 
Purdue will attend Liberty University in Lynchburg in the fall where she plans to study early childhood education. She's already spent time teaching small children at church while her father, a pastor, preaches from the pulpit. 
"Having Sunday's off of work really helps," said Purdue. 
The women will take with them to college some of the skills they've learned while working at Chick-fil-A. For Purdue, it's her newfound communications skills that have allowed to her open up and meet new people. 
Kifer say's she's learned to multitasking while serving customers. 
"I can work a shift with 10 to 15 people under me, do an $11,000 lunch shift, help manage the front and work in the back," said Purdue. "It's taught me that if the professor is late to class, I'll just take out my work and start doing it there on the desk while I wait." 
Both students will be able to re-apply for more scholarship money from Chick-fil-A next year as long as they're still employed by the company. Both students said they'd be back to work during college breaks and holidays. 
Kifer and Purdue's parents joined their daughters at a special ceremony where Lovitt handed out the awards. He purposely used his booming voice to announce to his customers that filled the dining room of his employees' accomplishments. 
Afterward, he served cake to not only the awardees but to every guest in the restaurant, too.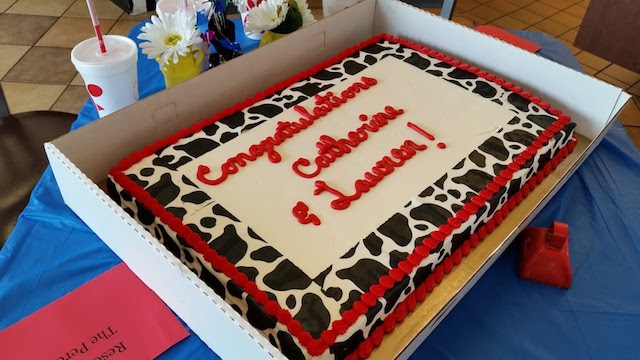 Post Your Email Notices, Press Releases, Event Fliers, and Photos
The FREE email packed with local news
The FREE email packed with local news
The FREE email packed with local news
Sign Up