Veteran performer Livingston Taylor coming to Hylton Performing Arts Center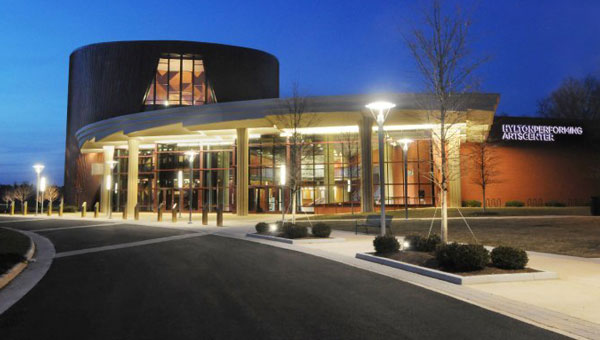 The Hylton Extra Series at the Hylton Performing Arts Center works to bring in widely known "top tier talent and lower tier prices," and they're meeting their mission once again. Livingston Taylor will be here performing April 15, 2018 at 8 p.m.
Taylor has been in the music industry for over 50 years. He comes from a family of musicians, said Hylton Center's General Manager David Baylor.
"His brother James…everyone is aware of his sister. His other brother…all musicians."
Taylor has had several Billboard Top 40 hits over the years, mostly in folk.
"He's performed with…I can't even name all the different musicians, but all the greats over the years. And we had the opportunity to have him come here to the Hylton and we just felt that someone of his stature was something that we want as part of our Hylton Extra program."
Baylor said the center originally scheduled Taylor for the Gregorie, which is their small theater, so it would be an intimate setting. But they decided to hold the larger Merchant hall available in case ticket sales get to the point where there's more patrons that want to see him.
Merchant has 1,100 seats. "Acoustically, it's probably one of the better halls in the region," Baylor said. "There's not a bad seat in the house. And it can be a really intimate feel, since the seats are also close to the stage. No matter where you're sitting, you're less than 90 feet to the stage. So it has that intimate feeling, but it's a full size concert."
Cost for tickets is $30. Tickets are general admission and available at the Hylton Center at the box office, through their website or through tickets.com.
NOVEC and Buck and Julie Waters of the Water Foundation are sponsoring this event.
Baylor said, "The whole an Extra program was born out of a desire of some of our donors to see some different artist here that may not be on the main season.
What happens is, we book our season, which is booked a year in advance. And we'll get phone calls from artists that may be traveling through the area that might have a show in Philadelphia and then shoot down to North Carolina, and they have a day in between this region. The artists ask if the Hylton Center has space. So that's how the extra idea was born."
Typically the Hylton Center can get a better rate if the artist is between performance dates. "The whole goal is for the Hylton Extras to be revenue neutral," Baylor said. "You know, we want to just break even, bring a great artist for the community to see it, but it not really cost."
"We look, we listen, we get suggestions from the community like, 'Oh, wouldn't it be great to have someone, say,…' And so we'll look, we'll see if they're available," said Baylor.
"We don't have many open dates. So it is kind of a chess match of 'Will this artist be available? Is the price right? Can we get them here? Can we sell the tickets?'
We've walked into a few artists where we've gotten a phone call from artist management. Charlie Daniels was our first Hylton Extra. We had an opening. And, I have to say, I got to see one of the people I grew up listening to and was very excited to meet Mr. Daniels. And it's the same thing with each one of these."
The Extra program has brought in artists like Art Garfunkel, Rosanne Cash, Richard Thompson and Paul Anka.
"That was kind of the idea, the opportunity to get artists that you wouldn't normally see here. You might see them down, you know, at the Kennedy Center. You might see them at Wolf Trap. But you wouldn't necessarily get the opportunity to see him in a 1,100-seat hall. Same thing with the other artists. It's just that opportunity where it works out."
For more information, visit www.hyltoncenter.org.
Post Your Email Notices, Press Releases, Event Fliers, and Photos
The FREE email packed with local news
The FREE email packed with local news
The FREE email packed with local news
Sign Up