Powdered sugar fans: Here's the new addition to Duck Donuts' menu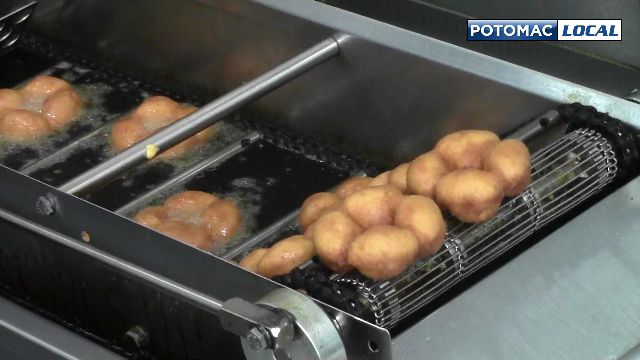 WOODBRIDGE — Like little control freaks, people flock to Duck Donuts because they like to demand what toppings come on their doughnuts. The shop, with locations in Bristow, Stafford, and Woodbridge, offers toppings Oreo Cookies, vanilla drizzle, to bacon bits.
Now, for the first time, the doughnut shop is offering a smaller portion with their new doughnut holes.

"We had a lot of demand for doughnut holes while people would see them being made for catering packages, wanting to know if they could buy them in smaller batches in the store. So now we're offering them in a small, medium, and large size for customers during the week," said Duck Donuts owner Larry Scherer.
But, control freaks beware. If you walk into the shop and you're just in the mood for some doughnut holes, these only come in three flavors.
"Just like our made-to-order doughnuts, when a customer comes in and orders an order of doughnut holes, we cook their doughnut holes fresh right in front of them so they can see them being made.They get hot doughnut holes, and they can get them in cinnamon sugar, powdered sugar, or bare [plain] when they order them in a store. For catering packages, we can customize a little bit, do some icing, or something like that," said Scherer.
The doughnut holes are served in a small plastic cup that's convenient when you're on the go. They're also easy to share if you're so kind.
Duck Doughnuts at 15101 Town Center Place in Woodbridge, where we shot this story, is open 6 a.m. to 9 p.m. The location opened in 2016 after Scherer and his business partner learned about the franchise at a location in Williamsburg.
In our area, there's lots of demand for doughnuts.
"We don't consider ourselves to be in compeition with anyone. I drove down to [Williamsburg[ and tried them. I fell in love with the concept of made-to-order, getting to pick your doughnut, getting a hot doughnut and we thought it would do really well up here," said Scherer. "So far, we've been right."
Post Your Email Notices, Press Releases, Event Fliers, and Photos
The FREE email packed with local news
The FREE email packed with local news
The FREE email packed with local news
Sign Up