Hugo keeps promise, introduces legislation to bury Haymarket powerline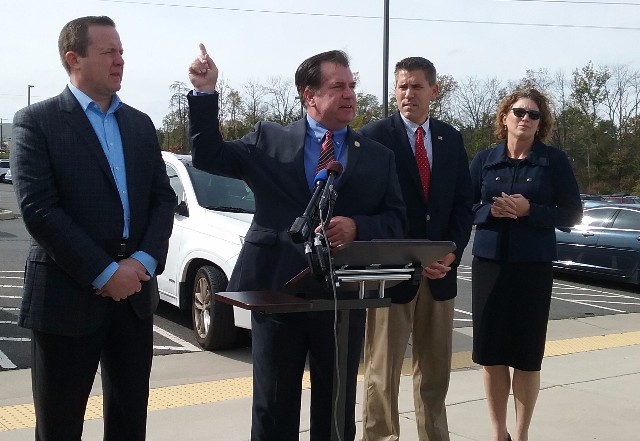 In October, Delegate Tim Hugo (R-Fairfax, Prince William) said he would introduce legislation to require the burial of any new powerline to be built near Haymarket.
Today, he made good on that promise, as he tells us in a press release:
Delegate Tim Hugo has introduced legislation, HB1202, ensuring that the proposed Haymarket power lines are underground. As Delegate Hugo stated at an October 23rd press conference, one of his top priorities if re-elected was finding a solution during the 2018 General Assembly session to underground the proposed power lines.

"This legislation makes certain that the proposed Haymarket power lines are underground," said Delegate Hugo. "I made a campaign promise to find a solution that protects homeowners' property values and the historical significance of western Prince William County."

Similar legislation was passed in 2008 that set a foundation for under-grounding transmission lines. As session progresses, HB1202 will study advancements in underground technology and construction, related costs, customer rate impacts and aesthetic concerns. In addition, the Haymarket transmission line will aid in this effort and will be included as one of the pilot projects.

"I am confident that we can make the upgrades to our grid infrastructure that are necessary for the 21st Century," said House Commerce and Labor Chairman Terry Kilgore. "HB1202 protects the quality of life for western Prince William County residents and I look forward to helping this bill advance through the General Assembly."

In conclusion, Delegate Hugo stated, "HB1202 will provide insight into hardening our grid. Looking at current and future energy demands, our energy grid must be modernized and able to adapt."
After years of wrangling between Dominion Energy, Prince William County officials over the project, the State Corporation Commission last month announced it would hold another, unprecedented, hearing on whether or not the powerline is needed for the area.
The 230,000-kilovolt powerline would run from the intersection of Prince William Parkway (Route 234) and Interstate 66 west to Haymarket to power a series of data centers reportedly owned by Amazon, Inc. The exact route of the proposed powerline has long been debated, with Dominion urging for the construction of an overhead route while county officials prefer a hybrid line that includes a portion of the line buried underground.
Post Your Email Notices, Press Releases, Event Fliers, and Photos
The FREE email packed with local news
The FREE email packed with local news
The FREE email packed with local news
Sign Up