There are some changes to OmniRide's Snow Emergency Plan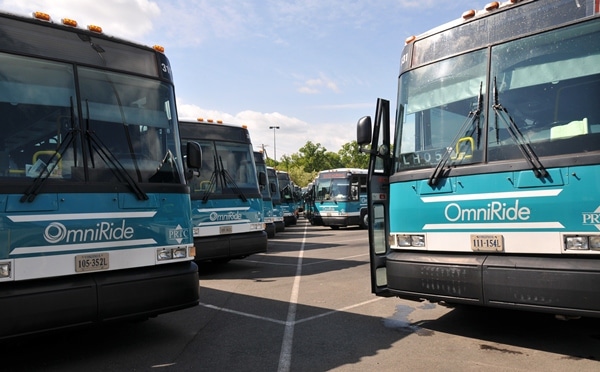 From OmniRide:
PRTC's new Emergency Service Plan brochure is available on buses and online. Please make sure to familiarize yourself with the plan as we enter the winter weather season.

This year's changes to the plan include:
In the morning, OmniRide routes will only operate between 5 a.m. and 8 a.m., with buses departing every 20 minutes.


Dale City – Washington/Pentagon/ Rosslyn/ Ballston/ Navy Yard. All AM buses start at the Lindendale Commuter Lot. Bus stops along Minnieville and Caton Hill ARE NOT SERVED. However, if PRTC runs regular service in the AM, and the ESP is implemented for PM service, passengers who need to travel to bus stops on Minnieville and Caton Hill roads should remain on the bus past the Lindendale Commuter Lot.

Gainesville – Washington/ Pentagon. All AM buses start at the Limestone Commuter Lot before serving the Cushing Road Commuter Lot. In the AM and PM, buses will follow Linton Hall Metro Direct routing.

South Route 1. AM passengers should board a shuttle bus at any PRTC bus stop along Route 1 between Fox Lair and Wayside Drive, and then transfer to a waiting Montclair OmniRide bus at the Route 234 Commuter Lot. In the PM, riders will share a bus with Montclair OmniRide passengers and transfer to a shuttle at the Route 234 Commuter Lot.
Post Your Email Notices, Press Releases, Event Fliers, and Photos
The FREE email packed with local news
The FREE email packed with local news
The FREE email packed with local news
Sign Up
News
,
Dale City Local
,
Dumfries Local
,
Manassas Local
,
Occoquan Local
,
Stafford
,
Woodbridge Local
,
Gainesville
,
Haymarket Local
,
Prince William
,
Traffic & Transit
,