How a displaced left-turn intersection and others could improve traffic flow on Route 234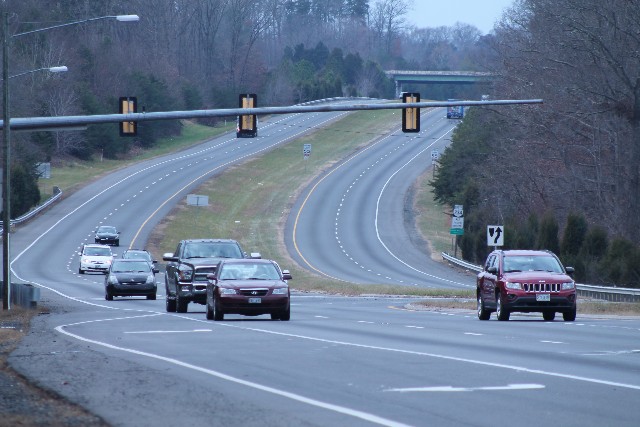 Here's a proposed solution to improving traffic flow on Route 234 in Prince William County:
Reduce the number of phases that drivers must sit through at traffic signals to turn left or right. That, in theory, will make traffic flow better and faster on Route 234 near Manassas.
Potomac Local recently reported Prince William County would spend $145 million on a new diverging diamond interchange at Balls Ford Road. The new junction will remove a signal light and create a grade separation allowing vehicles bound for I-66 to keep going. Balls Ford Road will be widened, and the diverging diamond will better control left turns from Balls Ford into Route 234.
Prince William County officials last week submitted funding requests for intersection improvements on Route 234 at Brentsville Road, Clover Hill Road, University Boulevard, Wellington Road, and Sudley Manor Drive.
Interchanges can be costly and time-consuming to build. So, thanks to Prince William County resident and author of the NOVARapidTransit.org Mark Scheufler, we have a map and an explainer for some of these cost-saving ideas for intersection improvements along the corridor.
Brentsville and Dumfries roads
If you've ever tried to get to the Prince William County Fair on a weeknight, you know how bad of an intersection this can be.
Today, there are two sets of traffic signals — one at Prince William Parkway and the other at Dumfries Road.
A new proposed design would tie the two roads together by adding two new ramps, and two new bridges. The new ramps would allow drivers to exit and enter Route 234, as well as provide access to Prince William Parkway and Dumfries Road.
Two new bridges would carry traffic on Prince William Parkway (Route 294) across 234 and onto Brentsville Road, and from Dumfries Road to the access ramp.
The configuration is similar to an interchange at Fairfax County Parkway and Fair Lakes Parkway in Fairfax County, which, before this design was implemented, used to rank as one of the dangerous intersections in the U.S.
Clover Hill Road
Further north on Route 234, Scheufler's design might have you thinking you're driving in New Jersey, not Virginia.
The main problem at this intersection, Scheufler argues, is that most of the drivers exiting the Wellington neighborhood via Clover Hill Road aren't crossing Route 234 to get to the Manassas Regional Airport, but rather are turning left or right to get on the highway.
Removing the signal phase that allows traffic to cross over Route 234 would help to increase traffic flow on the highway, but new configuration would have some drivers do a U-turn.
Drivers that want to turn from Route 234 onto Clover Hill will still be able to do so at a traffic light. However, drivers turning from Clover Hill onto Route 234 north or south would turn right on Route 234. If they want to changes directions — say the driver was headed out of the Wellington neighborhood, turned on Route 234 north, but wanted to go south — the driver would get into a left U-turn lane, turn around, and head south.
Drivers leaving the Manassas airport from Clover Hill wanting to use Route 234 to access I-66 would make a similar maneuver.
He estimates the improvements at Clover Hill would be cheap when compared to the Balls Ford Road $145 million diverging diamond, at just $10 million.
University Boulevard
There's an interchange design that's pretty uncommon in our area called the "quadrant intersection," where left turns are prohibited at the main intersection. Here, drivers must use a connector road to make all left turns.
Scheufler says the junction of Route 234 and University Boulevard is ripe for a quadrant intersection. A connector road would be built next to Cannon Creek Lane, the entrance to George Mason University's Science and Technology Campus.
This design is similar to what was proposed in 2013 in at Routes 1 and 234 but never built, for the extension of Route 234 into the Potomac Shores neighborhood.
Sudley Manor and Wellington
And for an intersection design completely foreign to Prince William drivers — the continuous flow intersection, or Displaced Left-Turn intersection. Here, for example, drivers on Route 234 north that wanted to turn left on Sudley Manor Drive would get into a left turn lane on 234, crossover 234 into a turn lane and continue the turn onto Sudley Manor Drive.
The same maneuver would be true for traffic on 234 in the opposite direction. Traffic lights would not only control the left turns from 234 but the movements for drivers on Sudley Manor Drive.
Shown at the intersection of two main roads in Miamisburg, Ohio, the idea behind this intersection is to have the traffic signals at the left-turn crossovers, and at the main intersection work together to minimize stops.
As for Wellington Road, a new bridge would replace the traffic signalized intersection forcing drivers from Wellington Road to access Route 234 by using Sudley Manor Drive.
"Without the bridge for Wellington, the whole idea for the Displaced Left Turn at Sudley Manor Drive gets kind of messy, so we need the bridge in place for all of this to work," said Scheufler.
Scheufler estimates these improvements, when bundled together, would cost $130 million. Afterward, the road could be widened to six lanes, or full-blown interchanges could be built to improve traffic flow if needed.
Post Your Email Notices, Press Releases, Event Fliers, and Photos
The FREE email packed with local news
The FREE email packed with local news
The FREE email packed with local news
Sign Up