2017 Prince William County Youth Salute Winners
Osbourn Park High School senior Brightney Varghese, 2017 Prince William County Youth Salute winner, will represent Prince William County Schools at the National Council on Youth Leadership Summit in St. Louis, Missouri, October 21-24, 2017.
Varghese is among 108 Prince William County high school seniors, and ten finalists, honored for academic achievement, formidable leadership skills, and a strong commitment to service at the restored and renovated 30th Prince William County Youth Salute Awards. She and three runners-up, Emmanuel Murphy, Jacqueline Days and Jarrett Lash, were chosen by the Prince William Youth Salute Council to receive a Youth Salute Council scholarship and plaque.
Ten finalists were selected based on their resumes and two essays they each wrote addressing topics such as leadership, personal accomplishment, role models, and challenges facing youth today. The following students were honored before their peers, parents, special guests, and school administrators at a ceremony held at Forest Park High School on Thursday, September 21, 2017.
Winner – Brightney Varghese…Osbourn Park High School
1st runner-up – Emmanuel Murphy…Christ Chapel Academy
2nd runner-up – Jacqueline Days…Colgan High School
3rd runner-up – Jarrett Lash…Patriot High School
Breyana Hopkins…Potomac High School
Akosua Odei…Stonewall Jackson High School
Tiyam Assadpour …Patriot High School
Rida Subzwari…Gar-Field High School
Vera Bordoh-Ansah…Stonewall Jackson High School
Matthew Cinnamon…Forest Park High School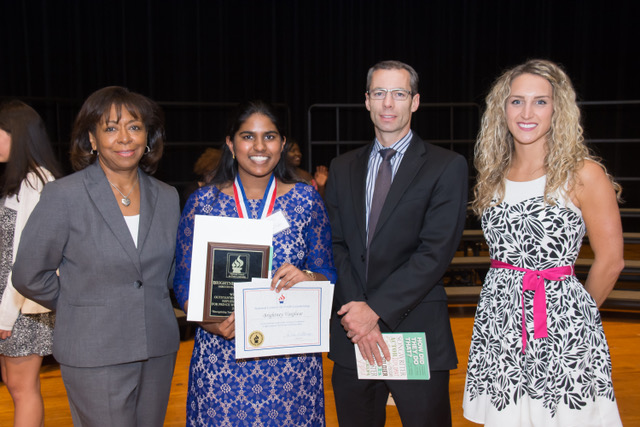 Youth Salute candidacy is ultimately recognition of character, and while character can mean many things, guest speaker Heather Steele congratulated the students for being tenacious. Steele explained, "Tenacity is being able to grab onto something and never let go. Tenacity is determination and persistence. She gave the students to be tenacious: by staying excited, by doing it scared, and by never letting go."
Heather Steel is a Litigation Partner at Compton & Duling Attorneys at Law. Heather serves her community through a number of foundations including Leadership Prince William, the Prince William Regional Chamber of Commerce, and is an active board member for both SPARK and Smart Beginnings of Greater Prince William.
Mistress of Ceremonies was Doresa Pinkett, President of The Village Resource Foundation 501 (c)(3) Corporation; and serving in her fifth year to the Swans Creek Elementary Principal Advisory Board as a Community Representative for Southbridge.
Congratulations to Prince William County Leaders of Tomorrow and good Luck at Nationals!
– Submitted by brownphotography.org/YouthSalute
Post Your Email Notices, Press Releases, Event Fliers, and Photos
The FREE email packed with local news
The FREE email packed with local news
The FREE email packed with local news
Sign Up