Veterans docket coming to Prince William court: Vets see things 'you see things you just don't see every day'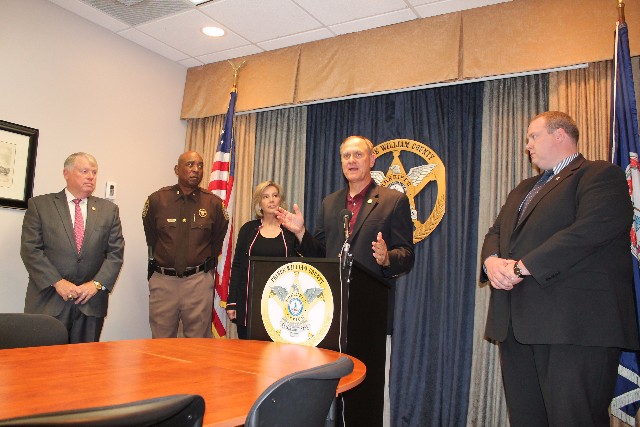 Starting Nov. 1, military veterans who find themselves on the wrong side of the law will have their cases eligible for a special hearing on a new court docket.
The "veterans docket" will deal with veterans issues, and many of the cases it will hear are people wrangling with substance abuse and mental health issues. Many times these can lead to theft and veterans being charged with larceny.
When returning from combat, for the most part, many returning veterans can reintegrate into society. Others may have issues, and cannot shake the horrors of the battlefield.
"It's very stressful; you lose comrades, you see people wounded, you see things you just don't see every day," said Delegate Scott Lingamfelter (R-Prince William, Fauquier), who supported the new docket. "What we saw in Las Vegas, folks, that's combat, that's what it's like. The people who come out of those conditions, they carry a lot of baggage."
Cases on the docket will be heard at the Prince William County Courthouse at 4 p.m. Mondays. There will be no limit to the number veterans cases added to the docket.
"Mr. Ebert will see that justice is carried out will see in every case, case by case," said Prince William County Assistant Commonwealth Attorney Bradley Marshall, speaking about his boss, Commonwealth Attorney Paul Ebert.
Virginia's Supreme Court this year worked on a new set of standardized rules for the new docket, allowing for the creation of similar programs in other localities. Fairfax County already has a veterans docket. However, officials told us it deals more with probationary measures following the conviction of a veteran charged with a crime.
Prince William's new veterans docket will deal address veterans charged with crimes before they are convicted.
"The vast majority of these vets do return with no residual effects of having served there, but for those who do, that's why we have the special docket," said Delegate Richard Anderson (R-Prince William), who called a press conference to announce the creation of the new veterans docket.
Officials hope the new program will be able to connect struggling vets with important healthcare services, like the ones to be offered at a new veterans care center to be built in Vint Hill, near Haymarket.
Post Your Email Notices, Press Releases, Event Fliers, and Photos
The FREE email packed with local news
The FREE email packed with local news
The FREE email packed with local news
Sign Up