Brann steps aside: 'It has been a pleasure to serve as the Acting School Board member'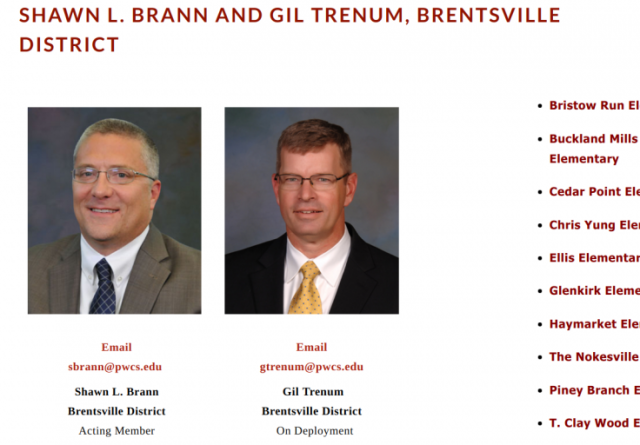 Shawn Brann will be seated on the dais for a Prince William County School Board for the last time tonight.
The acting Nokesville School Board member will step aside when Gil Trenum, the elected school board member for the district returns after a 1-year military deployment to Africa.
From Brann:
I will be serving as the Acting Board member for the Brentsville District for the meeting tomorrow night; Mr. Trenum will be back by the meeting on October 18.

It has been a pleasure to serve as the Acting School Board member for the Brentsville District over the past year. I did my best to fill the big shoes of Mr. Trenum while he served our country. As a Brentsville District resident, I look forward to having our most experienced School Board member return to the dais. I appreciate the support that I received from so many over the past year, and the compliments that I have received as this year comes to a close. This experience only further validated my belief that education has transformative power and can make a difference in the lives of our students.
Trenum's 2o16 deployment did not come without controversy from his fellow school board members.
Chairman Ryan Sawyers wanted the board to appoint a temporary fill-in for Trenum. But Trenum, backed by Republicans, wanted to choose his temporary appointment — which ended up being Brann.
State Senator Scott Surrovell requested a legal opinion on the matter from Virginia Attorney General Mark Herring which stated the School Board was obligated to fill the seat and could not leave it empty until Trenum's return.
Post Your Email Notices, Press Releases, Event Fliers, and Photos
The FREE email packed with local news
The FREE email packed with local news
The FREE email packed with local news
Sign Up