Annual Boo Ball to support the Un-Trim-A-Tree Holiday Gift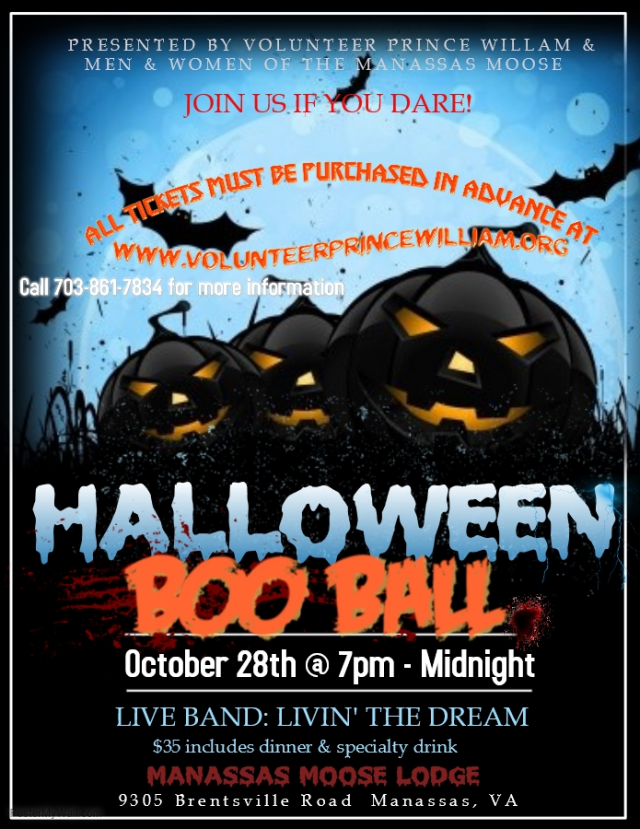 · Good Morning Prince William – Come join our Annual Boo Ball to support the Un-Trim-A-Tree Holiday Gift program for needy kids. This super fun event is Saturday, October 28th at 7 pm at the Manassas Moose Lodge. Tickets are just $35 and include dinner, specialty drink, cash bar and Livin' the Dream live band. Grab a costume and your friends for a fun time and for a great cause. Tickets can be bought online at: volunteerprincewilliam.org.
· ACTS in Dumfries is having their 7th Annual IWALK event on Saturday, October 7th at Stonebridge at Potomac Town center. Registration begins at 8 am with the 5K walk/run at 9 am. Registration is just $20/individual, $15/team, or $50/family. Proceeds benefit all the good things ACTS does for the community. The free Fall Festival is 10am-2pm following the run. They'll have food vendors, performances, kid's activities, carnival games and much more. Please register at: iwalkforacts.com.
· Saved Hands Foundation is having their next volunteer orientation on Saturday, October 7th from 10-2pm at Chinn Park Library. Come find out about all the neat ways you can help another. Please call (571) 572-9013 to learn more.
· Brain Injury Services is looking for a friendly visitor volunteer to visit their client who lives in Aldie and loves watching sports, walking or working out. Please call Michelle at (703) 451-8881, ext. 232 to learn more.
· ACTS is also looking for administrative volunteers during traditional business hours. Please email Tamika at: tmartin2@actspwc.us to learn more.
· Our Retired and Senior Volunteer Program (RSVP) is still looking for volunteer presenters age 55+ to teach 4th-grade children the life skills to keep them safe alone and safe at home. Volunteers must be available during school hours. This fun curriculum is very interactive and of course the kids are very fun. Training is provided; please call Jan to learn more at 571-292-5307 to be part of the RSVP team.
· Historic Manassas is looking for volunteers to help at the Fall Jubilee event on Saturday October 7th. Duties include beer pourer, stage performer check-in, directional assistants, and much more. Shifts are for a couple of hours throughout the day. You don't want to miss this super fun event. Please call Melissa at (703) 361-6599 for all the specifics.
· The Good News Community Kitchen is having a Bowling Tournament on Sunday October 14th at Bowl America in Woodbridge. Come join the fun from1pm-4pm for only $100/team. It's all for a great cause. Please register at: www.tgnck.org.
· The Salvation Army is looking for volunteers for the Red Kettle Campaign starting November 11th through December 23rd at lots of location throughout the community. Please call Lt. Ramos at (703) 580-8991 to learn more.
· The Empty Bowls Concert event to support all the great work at the SERVE Campus in Manassas is Sunday October 22nd, 2-5pm at Uptown Alley. This fun, family event includes soup, salad, bread, beverage, live music and a handmade glazed bowl. Tickets can be purchased on line at: www.nvfs.org
· Prince William County celebrates America Recycles Day on October 14, 10am-2pm at the County Landfill. This year's theme is "Recycling Matters" and the event will focus on the importance of waste reduction, recycling and buying recycled products. Entertainment, games and fun for the kids will make for a great family event! Volunteers are needed to help throughout the event. Please call (571) 285-3772 to register. You can also visit pwcgov.org/trashandrecycling to learn more about the event.
· Project Mend-a-House is looking for weekend volunteers who love to fix stuff to join their great teams. Both skilled and unskilled handymen and women are needed. These great folks are also registering individuals in the new Chronic Disease Self-Management Program and Live Well with Diabetes Program, both starting in September, in both Manassas and Woodbridge. Please call Martha at (571) 264-8559 to learn more.
· The House of Mercy is gearing up for their 7th Annual Campaign to End Hunger on Saturday October 7th. Come pledge $20 and fill rice bags for 2 hours to be part of this major event. Please call (703) 659-1636 to learn more.
· Think cool fall weather! Mark your calendar for the Walk to End Alzheimer's on Saturday October 21st at the Harris Pavilion. Volunteers are needed with event set-up, clean-up, refreshments, route monitoring and much more. Please email Ben at: bedonnelly@alz.org to learn more.
· The Heart Walk is Saturday November 4th on the National Mall in DC. Walkers and volunteers are needed. Please visit www.greaterwashingtonheartwalk.org to learn more.
· The next community shred event is Saturday October 28th for residents only at either the landfill site or the Balls Ford Yard Waste site from 9am-1pm.
If you are looking for other opportunities, please don't forget to call my wonderful team at Volunteer Prince William. Jan can help you with the Retired and Senior Volunteer (RSVP) opportunities at (703) 369-5292 ext. 1, Shelley can help with any individual or group project and send you weekly updates if you'd like. Shelley is at (703) 369-5292 ext. 0, and Bonnie can help you with opportunities available in Disaster Preparedness at (703) 369-5292 ext. 3. Please visit our newly re-vamped website at www.volunteerprincewilliam.org. Thanks so much for all you do in our community.
Call to Action is a column written by Volunteer Prince William Director Mary Foley.
Post Your Email Notices, Press Releases, Event Fliers, and Photos
The FREE email packed with local news
The FREE email packed with local news
The FREE email packed with local news
Sign Up