Kline developer proffers funds for trailer classroom at Signal Hill Elementary School
MANASSAS — Stanley Martin Homes has offered $45,000 for the addition a new trailer classroom at Signal Hill Elementary School.
Under a new purchasing contract with school division, its enough to purchase a single-wide trailer.
The cash is apart of proffers for the Kline Development, a mixed-use community to include 400 new homes planned at the intersection of Prince William Parkway and Liberia Avenue outside Manassas.
Officials have yet to approve a rezoning for the land that would clear the way for the project, which is scheduled to go before the Prince William County Planning Commission on Oct. 4.
While county school officials have no say on whether or not the project is approved, they made it clear they don't want the new homes because it would cause overcrowding conditions at nearby schools.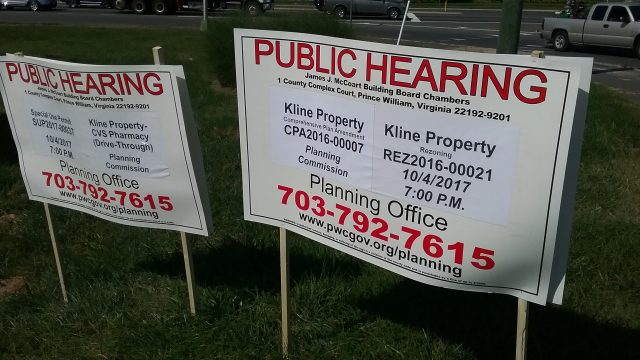 As we've reported, "If built, the Kline development will bring an estimated 238 new students to Signal Hill Elementary, Parkside Middle, and Osbourn Park High schools. By the 2020-21 school year, Signal Hill and Parkside are slated to be operating at over 100 percent capacity. Five years later, the estimated capacity numbers at each school jump to 125 and 110 percent, respectively."
School officials this week tell us the $45,000 would be enough to add a new modular, or trailer classroom to Signal Hill Elementary School. From Prince William County Public Schools
"…the applicant shall make a monetary contribution to the Prince William Board of County Supervisors in the amount of $45,000 for the installation of a new modular classroom at Signal Hill elementary School.'
Stanley Martin Homes did not respond to a request for comment on this post.
In addition to the new homes, the proposal calls for building commercial buildings along Prince William Parkway across from a Harris Teeter grocery store in Manassas City. For these structures, supervisors must also approve multiple special-use permits for a Sheetz gas station, an unnamed drive-through fast food restaurant, a CVS Pharmacy with a drive-through window, and a self-storage facility
Post Your Email Notices, Press Releases, Event Fliers, and Photos
The FREE email packed with local news
The FREE email packed with local news
The FREE email packed with local news
Sign Up