County leaders' hands tied in battle over Confederate flag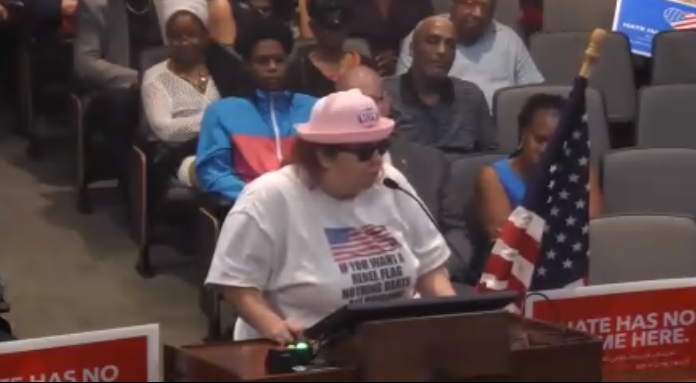 STAFFORD — There are no plans to remove a Confederate battle flag in Stafford County.
However, many people want the symbol of the Confederacy, and one used by the KKK to show hatred toward blacks, removed from view.
The flag flies high over Interstate 95 in the southern portion of the county near Fredericksburg. Residents filled the Board of Supervisors meetings again on Tuesday, as they did last month, to call for the flag's removal.
And if the county won't remove the flag, speakers asked county leaders to enact height restrictions for all flag poles in the county to 30 feet. They asked county leaders not to grandfather any existing flag poles, which would force the Confederate flag that today flies over private property out of view of highway travelers.
"Stafford has a message to anyone who is not white: You are not welcome," Susan Kosher told the Stafford County Board of Supervisors on Tuesday night.
Calling it a symbol of hatred used during the Civil War, and again during the Civil Rights Movement 100 years later, residents said they were embarrassed to see the battle flag in their county. They urged officials to hang banners from the Truslow Road overpass on I-95 stating Stafford County is a welcoming place for all ethnicities and backgrounds.
"We cannot say we're open for business, but we have a symbol of hate over I-95," said Jennifer Carroll Foy, of Woodbridge, who's running to replace Mark Dudnhefer House District 2 in Prince William and Stafford counties.
One man stood in support of the rights of the private property owner who chooses to fly the flag.
"If you're thinking about a flag as you're driving down I-95, you don't have any bills to worry about," said RC Stevens, a longtime county resident who added removing the flag would help to erase history.
This issue comes down to property rights. Stafford officials say federal law prohibits them from limiting what types of signs and flags may be displayed in the county. And, to date, there are no ongoing discussions within the halls of the county's government center exploring a rezoning order to limit flagpole height.
"If we shorten the height of flag poles, even the ones with American Flags flying on them would be lower," said Stafford County Board of Supervisors Chairman Paul Milde.
The Board came together two weeks ago to determine what legal action it could take.
"In the past, and again recently, the Board engaged legal counsel and County staff in a careful and thorough review of the Board's regulatory authority. Based on that review, the County does not have the legal authority to remove the flag," said Rock Hill District Supervisor Wendy Maurer.
Other tall flagpoles in the county include masts at two car dealerships in North Stafford — a Nissan dealership on Route 1 and a Toyota dealership on Route 610 just off I-95. Both fly a U.S. Flag.
The Confederate flag over I-95 hoisted atop the pole three years ago and has been the subject of the national and international press. Stafford officials assure that if a rezoning were passed to limit flagpole height, the Confederate flagpole and tall ones like it would be grandfathered in and be allowed to remain.
Post Your Email Notices, Press Releases, Event Fliers, and Photos
Subscribe to the weekday Breakfast Links email FREE!
Get
updates straight to your inbox.