Stonewall Jackson monument will stand at Manassas Battlefield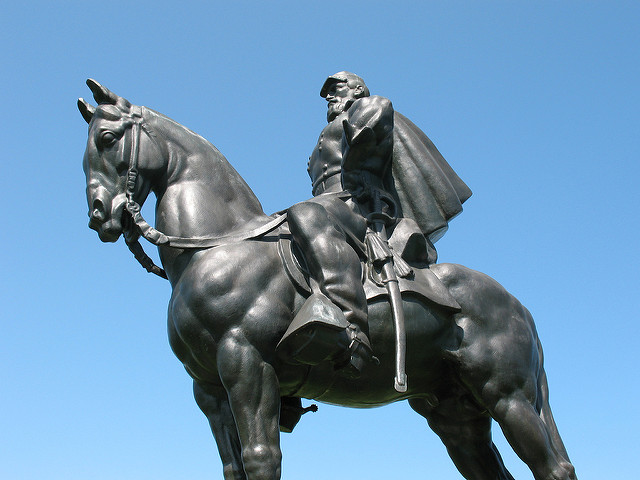 Exclusive
PRINCE WILLIAM COUNTY — A monument to Confederate Gen. Thomas "Stonewall" Jackson will stand at Manassas National Battlefield Park.
The National Park Service says it, and all Confederate monuments on national park land will remain standing.
"That is the Park Service's policy on the matter," said Ray Brown, a spokesman for the Manassas National Battlefield Park.
The National Park Service made the determination this afternoon.
The decision comes a day after Virginia Governor Terry McAuliffe issued a statement calling for the removal of Confederate statues in the state:
"The discussion regarding whether to relocate Confederate statues is an important and legitimate conversation that should take place in each community that contains one. Monuments should serve as unifiers, to inspire us collectively and to venerate our greatest citizens. Unfortunately, the recent events in Charlottesville demonstrate that monuments celebrating the leadership of the Confederacy have become flashpoints for hatred, division, and violence.

"As we attempt to heal and learn from the tragic events in Charlottesville, I encourage Virginia's localities and the General Assembly – which are vested with the legal authority – to take down these monuments and relocate them to museums or more appropriate settings. I hope we can all now agree that these symbols are a barrier to progress, inclusion and equality in Virginia and, while the decision may not be mine to make, I believe the path forward is clear."
The statue is the only one in the national battlefield park.
Considered by historians as one of the best military minds in U.S. history, Jackson earned his nickname "Stonewall" during the Battle of 1st Manassas.
Brown told Potomac Local there had been no protests at Stonewall Jackson statue. The monument was paid for and erected by the federal government in 1940 after the Sons of the Confederacy gifted the land for the battlefield park to the government.
Last night, Prince William County School Board Chairman of Supervisors Ryan Sawyers announced he was raising cash to change the names of Stonewall Middle School, and Stonewall Jackson Senior High School.
Photo by Flickr user Tina Saey
Post Your Email Notices, Press Releases, Event Fliers, and Photos
The FREE email packed with local news
The FREE email packed with local news
The FREE email packed with local news
Sign Up