Bare Knuckle American Rye release June 17: 'Everyday, all of us on this planet are fighting for something'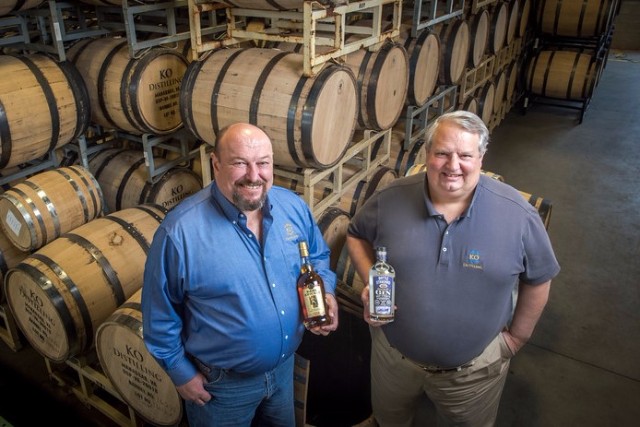 For the first time since prohibition in the 1920s, a distillery in Manassas will sell its very own rye whiskey to the public.
Bare Knuckle American Rye Whiskey, bottled at KO Distillery is a drink that harkens back to older times but produced for a younger generation. An explosion of rye whiskey drinkers at area restaurants, mostly among millennials, has made popular once again a drink that was popular in the mid 20th century.
While rye whiskey may have been a favorite of the Don Draper era, KO's new spirit is not your grandfather's whiskey.
"What was old before is now new again," said KO Head Distiller John O'Mara. "The younger people are trying out all of the older type cocktails at restaurants and really spurred on a big interest."
Rye differs from the other whiskeys because a mix of spices that bring out, as O'Mara calls it, the "heart of the heart" in the brew. At 90 proof, Bare Knuckle American Rye is a smooth drink.
"You know, I was always strictly a Bourbon drinker, but the spiciness of the rye, that big, bold mouth feel that you get with the Rye. I just I just love the complexity that it has," he said. "I drink it on the Rocks mostly, but in cocktails, I drink Manhattans. I'm starting to experiment with those."
KO's rye has aged 18 months in a barrel and will be ready for a release at the distillery on Saturday, June 17
"What happens inside that barrel is amazing. Basically, not through anything we do, but by the chemistry of the spirit, and the barrel, and the char inside the barrel, it's amazing how liquor, over time, transforms into something that's like golden nectar," said KO Distillery Co-Owner Bill Karlson.
This is the second whiskey in the Bare Knuckle line for KO. On Black Friday, the day after Thanksgiving 2016, the distillery released its first wheat whiskey under the same brand name. A third, yet-to-be-announced brown spirit is also planned for the Bare Knuckle line.
The Bare Knuckle bottle label features the early 1900s bare knuckle fighter and African American world heavyweight boxing champion Jack G. Johnson. Johnson's image printed on the bottle's label came from a trading card once distributed by a cigarette company.
"We started doing some research and found out that in 1910, The American Tobacco Company, if you bought cigarettes, inside that carton would be a coupon, and if you got enough of those coupons, you could mail them in," explained Karlson. "What came back was a boxing trading card. And it wasn't the size of the current baseball trading cards; it was called cabinet card, probably five inches by seven inches, really nice card."
Karlson and O'Mara, both founders of KO Distilling, hence the initials, found an un-copyrighted image of the boxer Johnson and decided it embodied the Bare Knuckle brand. To the distillers, the image represents less of a bloodied fighter and more of a symbol of handcrafted, artisan whiskey.
"Everyday, all of us on the on this planet are fighting for something, and it's tough. Everybody has their good and their bad days," said Karlson. "I'd like people to think of it less like a boxer, but that we're making this whiskey every day with our hands you're out there in the world doing it every day with your hands. And, you know what? It's OK to take a break and enjoy life."
A release party for Bare Knuckle American Rye will take place Saturday, June 17 from noon until 7 p.m. To mark this special occasion, KO is offering a limited number of commemorative bottles of Bare Knuckle Rye.
Each rye bottle comes with a commemorative label that has been hand-numbered and signed by both Bill Karlson and John O'Mara, KO's founders.
Admission to this event is free. Food and beverages provided by Burnt Ends BBQ and BadWolf Brewing Company will be available for purchase. Live music will be provided by the Rogue Johnsen Trio.
KO Distilling is located at 10381 Central Park Drive #105 in Manassas.
Post Your Email Notices, Press Releases, Event Fliers, and Photos
Subscribe to the weekday Breakfast Links email FREE!
Get
updates straight to your inbox.