Long & Foster's Gainesville office hosts community service day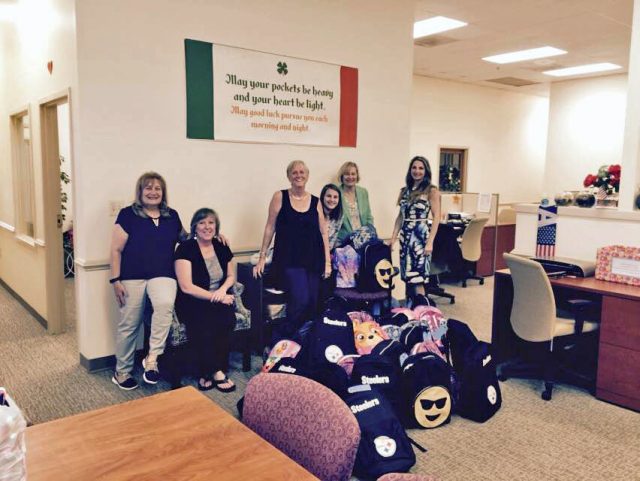 The Gainesville, Virginia, office of Long & Foster Real Estate, the largest independent residential real estate company in the United States, will take part in the company's 20th annual Community Service Day on June 7, 2017. The Gainesville office will join the brokerage's over 220 offices in the day of giving back by hosting a packing party for Comfort Cases.
Thousands of children enter the foster-care system each year, and most carry little more than the clothes on their backs. Comfort Cases was founded on a mission to provide the essentials to these brave children on their journey to find a home. Founder Rob Chasteen-Scheer, an adoptive father of four, experienced the foster care system first hand as a young adult which led to the formation of Comfort Cases.
"Our Gainesville Long & Foster agents appreciate our community's support and this is our way of showing how much we appreciate our customers and clients," said Managing Broker Zhanneta Lopez.
Long & Foster sales associates and employees from throughout the company, including staff from its Chantilly, Virginia, headquarters, will participate in a variety of volunteer activities during Community Service Day. In past years, these activities included cleaning up, refurbishing and repairing nearby parks, schools, shelters, homes and day care centers, and providing other assistance to local organizations that offer crucial services to the community.
"Since our founding nearly 50 years ago, we've been dedicated to giving back to the communities in which we live and work, and our annual Community Service Day event is one example of how we do that," said Jeffrey S. Detwiler, president and chief operating officer of The Long & Foster Companies, parent company of Long & Foster Real Estate. "Community Service Day allows our team to make a positive impact on our local communities, and our agents and employees thoroughly enjoy this opportunity to contribute their time and effort. Whether it's through our annual Community Service Day or one of our other charitable projects, we're truly glad to give back."
For more information about Long & Foster, visit LongandFoster.com.
About Long & Foster® Real Estate
Long & Foster Real Estate, Inc., is the No. 1 private residential real estate company in the United States by sales volume. The company is part of The Long & Foster Companies, which also includes Prosperity Home Mortgage, LLC, Long & Foster Insurance and Long & Foster Settlement Services. Long & Foster Real Estate is the exclusive affiliate for Christie's International Real Estate throughout select parts of the Mid-Atlantic and Northeast, and it is a founding affiliate of Leading Real Estate Companies of the World, a prestigious global network of real estate professionals that includes the Luxury Portfolio International division.
Long & Foster Real Estate has over 220 offices, stretching from Raleigh, North Carolina, to Fair Haven, New Jersey, and from Charles Town, West Virginia, to the Atlantic Ocean, and it represents more than 11,000 agents in seven Mid-Atlantic and Northeast states, plus the District of Columbia. The company, which has a productive commercial business in addition to its residential side, sold more than $31.2 billion worth of homes and helped people buy and sell homes nearly 88,000 times in 2016. Visit www.LongandFoster.com for more information.
Post Your Email Notices, Press Releases, Event Fliers, and Photos
The FREE email packed with local news
The FREE email packed with local news
The FREE email packed with local news
Sign Up