Here is the 'dirt' about the Manassas Park Community Center Teen Garden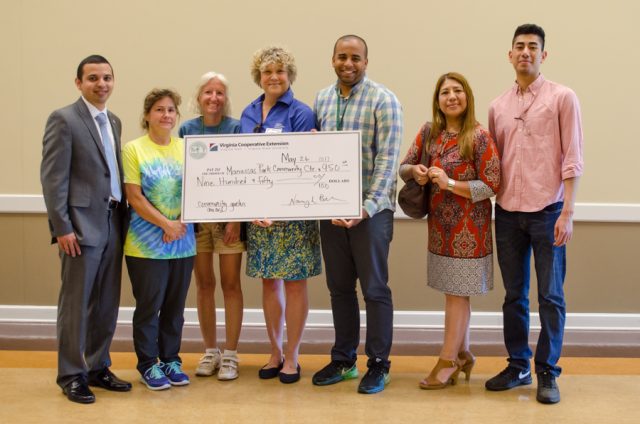 Teens want to be independent, and parents of teens may feel like they are in a constant tug of war for control! Parents of teenagers agree that teenage years present several unique challenges. However, there is one constant where parents of teenagers agree, and that constant is when you keep teens busy, they seem happier. So how do you get teens to become more involved in activities while they continue to stay busy with activities in their daily lives?
Luckily, the Teen Passport program at the Manassas Park Community Center is a place where Manassas Park teenagers can come after school, weekends, and throughout the summer. The emphasis is on recreation with creative programs and materials to encourage teen (grades 6-12) participation in many diverse activities including cooking club, drop-in basketball, and group activities.
"The staff at the Manassas Park Community Center is very responsive to the needs of teens and are always on the lookout for fun activities geared specifically for teens," explained Tony Thomas, Recreation Services Supervisor, "The teens here love sports, arts and crafts, and several have even asked for our garden club to be brought back."
There has been a teen garden at the Community Center for about three years, but circumstances arose and the after school club was briefly discontinued. Over the years, several teens asked about the garden club, and Thomas looked into ways to help fund the teen garden program and found a grant was available through the Virginia Cooperative Extension (VCE).
"With the support of the Department and the Director, we applied for the grant, and I am happy to say that we got it!" Thomas explained.
The grant, awarded through the VCE Prince William Master Gardener sponsored by PWCPS and the Environmental Protection Agency, is for $950.00. In addition, the teen gardeners will receive technical assistance from VCE Prince William Master Gardener Volunteers.
The Virginia Cooperative Extension brings area residents together through partnerships of local, state, and federal governments. With the help of the Extension Leadership Council, local extension offices design, implement and evaluate the Cooperative Extension's programs. Simply put, the Virginia Cooperative Extension puts knowledge into the hands of residents using credible experts and educators who provide information, education, and tools you can use every day to improve your life.
The grant will enable Thomas to purchase all the tools needed for a successful garden including seeds, rakes, shovels, and lumber. This grant also provides access to a Master Gardener for ongoing guidance about basic gardening issues.
"We have a staffer, Lisa Pfohl, who loves to garden and she will be one of our core liaisons. Everyone who is at the Community Center always sees her planting, weeding and pruning the gardens that surround the Community Center so she was a natural choice to work in the garden with the teens," Thomas said.
Thomas cannot wait for the teen garden program to begin because he knows the teens will learn about gardening and nutrition. Thomas pointed out, "At the end of the year, the teens should have a sustainable garden model. One that can be duplicated for years to come."
Thomas smiled broadly as he added, "We are truly delighted to bring back the teen garden, and I know that by everyone working together, the teen garden at the Community Center will be a success!"
The Manassas Park Community Center is located at 99 Adams Street in Manassas Park, VA. Managed by the City of Manassas Park Department of Parks and Recreation, the facility is home to basketball courts, a swimming pool, wellness areas, and 29 special events and programs-many of which are FREE! For more information visit us at ManassasParkCommunityCenter.com or call at 703-335-8872.
Post Your Email Notices, Press Releases, Event Fliers, and Photos
Subscribe to the weekday Breakfast Links email FREE!
Get
updates straight to your inbox.
Readers also enjoyed...
A word from our sponsors...