Improved I-95 interchange at Quantico would improve access from toll lanes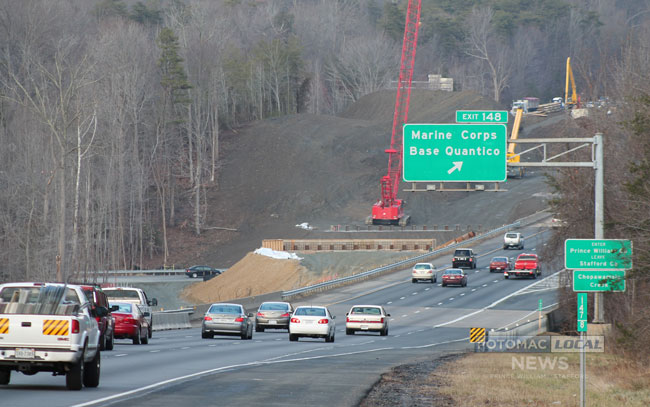 Plans for an improved interchange on Interstate 95 at Quantico are under review.
Engineers are looking at ways to increase access to Quantico Marine Corps Base. Options in the plan include access to and from the I-95 E-ZPass Express Lanes via a flyover, like the Joplin Road access, or a slip ramp that allows for smoother transitions, according to Amanda Baxter, a spokeswoman for the Virginia Department of Transportation.
A northbound flyover exit from the Express Lanes to the existing Russel Road exit off I-95 is proposed, according to Baxter. This movement will allow those heading to Quantico use the Express Lanes if they enter them at the proposed terminus at Exit 133 at Route 17 or from a new park and ride lot being constructed at Courthouse Road (Rt 630) at Exit 140.
There is also a southbound facing slip ramp that's being evaluated by VDOT just south of Russell Road that will allow vehicles to "slip" into the Express Lanes from the regular travel lanes. Both of these options are under consideration and no decision will be made until sometime this summer.
The improved interchange would be located on the border of Prince William and Stafford counties.
Drivers on I-95 in Prince William County know there's more in store for the 95 Express Lanes, as the Virginia Department of Transportation (VDOT) is looking to extend them to Fredericksburg, "to the vicinity of Route 17" in Stafford County, according to VDOT.
This was presented to the public in April at their first public information meeting to a small audience.
Presently the 10-mile stretch of new express lanes is still in the "study" phase, with construction scheduled to start in 2019 and be completed in 2022. What is under construction now is the 2.5-mile extension at Route 610 to relieve congestion that incurs in the morning on the northbound side, and in the evening southbound, where the cars are either exiting at Route 610 or merging back to I-95 South.
Post Your Email Notices, Press Releases, Event Fliers, and Photos
The FREE email packed with local news
The FREE email packed with local news
The FREE email packed with local news
Sign Up