Fare hikes, western maintenance facility funding comes with new PRTC budget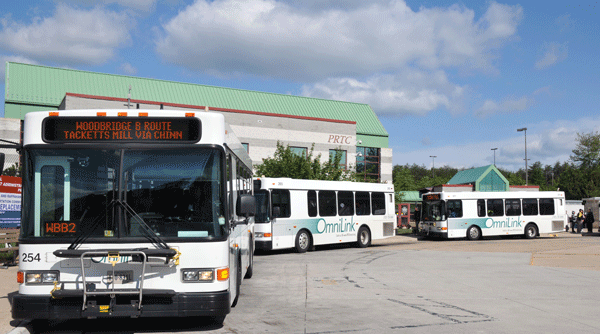 Fare hikes are coming for bus riders in Prince William County.
OmniRide commuters paying with SmarTrip will pay $6.90, up from $6.50, and cash fares are up from $8.75 to $9.20. A single ride on local OmniLink bus would increase to $1.55, up from $1.50. Overall, it's an average 5% fare increase for the Potomac and Rappahannock Transportation Commission.
There will also be service cuts to some routes, removing underused services such as the route between Manassas Junction shopping center and Manassas Mall, and the elimination of a route between Lindendale Road and the Dale City commuter lot on the system's Navy Yard route.
The eliminations and reroutings are expected to save PRTC $200,000.
The fare increase and service cuts are part of the agency's new $60 million fiscal 2018 budget expected to be approved in June by the PRTC Board of Commissioners.
No new bus services will be implemented over the next year. State funded services like a commuter bus from Gainesville to the Pentagon and the Tysons Corner Direct bus will continue operating.
A long-talked about western maintenance facility for PRTC to be located west of Manassas is fully-funded in this new budget. A ribbon cutting for the facility is expected by 2020.
Currently, many of PRTC's buses are maintained at the transit agency's headquarters in Woodbridge.
The local jurisdictions that fund PRTC, to include Prince William County and Manassas, do so with monies generated by the motor fuels tax, paid when drivers fill up at the pump. Manassas' motor fuels fund has been depleted and is $250,000 in the red, but city officials have assured PRTC they would be able to fund its share by using non-motor fuels tax funds.
Last year, Prince William County allocated all of its motor fuels tax monies to fund PRTC buses, choosing to fund its portion of Virginia Railway Express with funds from the Northern Virginia Transportation Authority.
"Prince William's motor fuels tax fund, by itself, if not enough to fund PRTC," said Joyce Embrey, PRTC director of finance and administration.
By 2019, Prince William County's motor fuels tax fund is expected to be in the red by $835,000. By 2023, the fund is expected to be short by $11 million.
Falling gas prices, and vehicles that get better gas mileage cause the fuels tax funds to decrease over time. PRTC officials remain hopeful state politicians enact a gas-tax floor that would guarantee to fund the transit agency no matter how low fuel prices dip.
The General Assembly should take up the measure again next year. This year, a gas-tax floor bill it passed the Senate but didn't make it out of a House committee, said PRTC Director Robert "Bob" Schneider.
Two public hearings on PRTC's proposed budget were held this week at the agency's Woodbridge headquarters and at Manassas City Hall. No one attended the Woodbridge session, and seven came to the Manassas hearing.
Post Your Email Notices, Press Releases, Event Fliers, and Photos
Subscribe to the weekday Breakfast Links email FREE!
Get
updates straight to your inbox.