Foot pursuit across busy road and through woods yields arrest of wanted man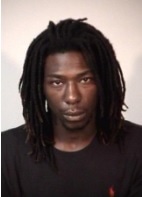 From Stafford County Sheriff's Office:
On April 9, 2017, Deputy C.N. Mireles and Deputy K.J. Simpson responded to the Clarion Inn, located at 564 Warrenton Road, to serve a warrant. Upon arrival, the deputies entered the side door of the hotel lobby and observed a male subject matching the suspect's description in the lobby. The subject saw law enforcement, immediately rose to his feet and fled out the front door.
Both deputies pursued the suspect on foot as he ran through the Clarion Hotel's parking lot, across U.S. Route 17, into another parking lot, and through the breezeway of the Super 8 Motel.
The subject then veered into the woods behind the motel. The pursuit continued through the woods, over a small creek, through thorny vines and thick entanglements. After several hundred yards Deputy Mireles was able to bring the subject to the ground. After a brief struggle, the subject was taken into custody. He then provided deputies with incorrect identification.
Timothy Terrence Bell, Jr., age 25 of no fixed address, was charged with Resisting Arrest and False Identification to Law Enforcement. He was served with multiple felony warrants from Fredericksburg. Mr. Bell is incarcerated at the Rappahannock Jail on no bond.
Post Your Email Notices, Press Releases, Event Fliers, and Photos
The FREE email packed with local news
The FREE email packed with local news
The FREE email packed with local news
Sign Up