Man arrested for attempted malicious wounding of two Stafford Deputies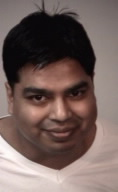 From Stafford County Sheriff's Office:
On March 20, 2017, at 11:54 p.m., Deputy W.C. Betush was stopped in the parking lot of 1739 Jefferson Davis Highway when a Honda CRV pulled into the lot and parked approximately 10 feet away from his marked cruiser. Deputy Betush felt that the subject was possibly in need of assistance and he exited his cruiser in order to speak with the driver.
The Honda's driver, a male subject, kept his window up, put his vehicle in park and exited the vehicle. The male began to walk towards Deputy Betush, all the while placing his hands in and out of his pockets.
During this time period, Deputy J.A. Mangan circled into the parking lot and exited his patrol car. Deputy Betush commanded the subject to show his hands while the male continued in his attempt to get closer to the Deputy. The male appeared dazed, was mumbling and stated he had nothing to lose.
Deputy Betush gave multiple commands for the male to show his hands. When the male removed his hands from his pockets, both fists were clinched. At this time Deputy Betush and Deputy Mangan took control of the male subject and placed him in handcuffs.
The male was identified as Arman Chowdhury. Mr. Chowdhury was searched and a pair of household scissors was recovered from his person. Mr. Chowdhury stated to law enforcement and again to the magistrate, that he wanted to use the scissors to stab a deputy in the neck. Mr. Chowdhury added if he was released from custody he would attempt to do it again.
Arman Masud Chowdhury, age 28 of Kirby Lane in Stafford VA, was charged with two counts of Attempted Malicious Wounding of Law Enforcement. He was incarcerated at the Rappahannock Regional Jail on no bond.
Post Your Email Notices, Press Releases, Event Fliers, and Photos
Subscribe to the weekday Breakfast Links email FREE!
Get
updates straight to your inbox.