Stafford deputies pursue suspect, pin truck against guard rail on Route 1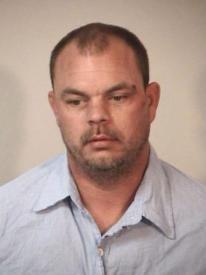 From the Stafford County Sheriff's Office:
On March 3, 2017, at approximately 4:42 PM, the Sheriff's Office responded to a report from a witness who had observed a white male urinating behind a business on Garrisonville Road, throwing beer cans out of his blue Chevrolet Silverado while driving into Doc Stone Commons. The witness observed the vehicle run a red light and drive over several curbs before parking illegally. The driver and a male passenger exited the vehicle and briefly entered the Lowes before picking up another male passenger and leaving the area westbound on Rt. 610.
Deputy D.C. Reed and Deputy J.J. Brunofski made their way through heavy rush-hour traffic and caught up with the truck as it made a left turn into the parking lot of North Stafford High School. Deputy Reed observed the vehicle failing to maintain its lane of travel and crossing over the double yellow center lines before initiating a traffic stop.
The driver failed to stop and continued to travel through the high school campus towards Shelton Shop Road. Deputy Reed advised other patrol units that he was in pursuit as the truck traveled south on Shelton Shop. The registered owner of the truck was reported to have a suspended driver's license and was wanted out of three jurisdictions.
The Silverado slowed as it approached the intersection of Mountain View Road where several cars were stopped for the traffic light. Deputy Reed exited his patrol car and approached the truck, during this time period the two male passengers stepped out from the passenger door. Deputy Reed and Deputy Brunofski commanded the subjects to the ground and they were taken into custody without further incident.
The driver, however, stayed in the vehicle and fled from the scene. First Sergeant C.D. Truslow, Deputy J.M. Hierwarter, and Deputy J.H. Truslow continued to pursue the vehicle as it turned left and traveled east on Mountain View Road.
The information provided by the passengers confirmed that the driver was Michael Harless, a suspect wanted in three jurisdictions. Both passengers stated that they had begged Mr. Harless to pull over and he stated he would not, as he knew he was wanted and had eight years to serve.
Michael Harless continued down Mountain View Road, traveling at speeds ranging from 60 MPH to 80 MPH. Several vehicles went into ditches to avoid a head-on collision with Mr. Harless. He then turned onto Centreport Parkway heading toward Interstate 95.
Major J.W. McAlister and Deputy A.I. Assur arrived at the anticipated intersection and deployed Stop Sticks, which successfully punctured both the driver and passenger side tires. The Silverado continued down Centerport Parkway losing tire tread and slowing slightly. The pursuit of the vehicle ended on U.S. Route 1 as a rolling roadblock was used to pin the vehicle against a guardrail.
Once the Silverado had come to rest, the suspect emerged and began to flee on foot. At that time Deputy J.H. Truslow commanded the male to stop, or his K-9 partner HAVOC would be released. The male continued to run as HAVOC pursued and brought down the suspect who was actively resisting as handcuffs were being applied. As the suspect was being escorted to an awaiting patrol vehicle, he able to briefly break free and run a short distance before being apprehended a second time.
The suspect was placed in a patrol car and transported to Stafford Hospital Center for the treatment of the injuries sustained during the pursuit.
Michael Harless, age 35 of Brookfield Drive in Catlett, VA was charged with Eluding Police, two counts of Abduction and Kidnapping, Felony Hit and Run, Driving Under the Influence, Reckless Driving, Possessing a Vehicle with Altered Serial Number, Resisting Arrest, Driving with a Suspended or Revoked License and numerous other misdemeanors. He was incarcerated at the Rappahannock Regional Jail on no bond.
Post Your Email Notices, Press Releases, Event Fliers, and Photos
Subscribe to the weekday Breakfast Links email FREE!
Get
updates straight to your inbox.