Gray Face Acres provides care and a home for senior dogs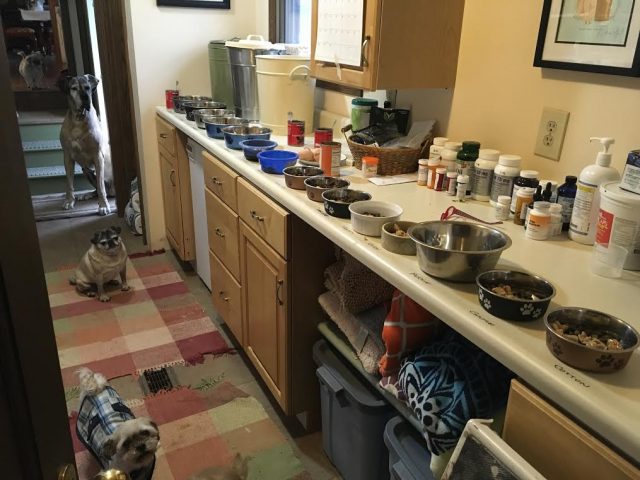 From Gray Face Acres:
We are located on a beautiful, secluded 10 acres in Haymarket, VA. The mission of Gray Face Acres is to provide the love and comfort of a home and family for senior dogs abandoned or left in shelters.
We work with many of the local shelters, taking senior dogs who have special needs, medical issues, and whose chances of adoption are slim to none. Some of them just needing hospice care. Many of them retire here with a life of love and comfort in our home. Some find their forever homes with the wonderful people we meet who also have big hearts for senior dogs.
After 13 years of taking in, and finding homes for over 250 dogs, my husband and I decided to make things official, so we started Gray Face Acres last April. So many of the senior and special needs dogs we fostered for other rescue groups through the years ended up staying here!
We also see the need to help many of the rural shelters, who have very limited resources, by taking their senior and special needs dogs into an environment where we have the time and resources to help them. We feel very passionate about making their final days, weeks, months, and in some cases, years, the very best they have ever had!!
It is not an option for us to leave the very old and sick dogs in shelters to spend their final days.
We are growing our network of senior and hospice dog foster homes in order to help as many dogs in need as we possibly can.
We are an all volunteer, registered 501c3 charity, entirely funded by ourselves and very generous donors who share our passion. We all love what we do! grayfaceacres.org
Post Your Email Notices, Press Releases, Event Fliers, and Photos
Subscribe to the weekday Breakfast Links email FREE!
Get
updates straight to your inbox.