Virginia Speaker of the House Bill Howell, of Stafford, to retire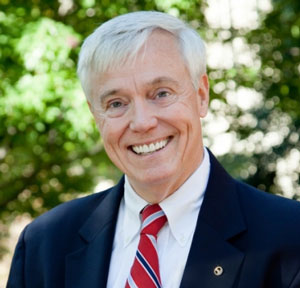 Statement from Chairman of the Board of Supervisors Paul Milde:
"On behalf of the Board of Supervisors and the citizens of Stafford County, I would like to thank Bill Howell for his outstanding representation of our area during his 29 years in the General Assembly and 15 years as Speaker.
The fact that Bill served the second longest time of any speaker in Virginia history says so much about his leadership ability and his character. For an elected official, it can be difficult to balance the needs of your district and the needs of other districts, but Bill did a remarkable job of doing the best for the citizens of Stafford County as well as all citizens of the Commonwealth of Virginia. He kept our state financially sound, gaining three AAA bond ratings for Virginia. He stood up for us against burdensome federal programs, and supported and enabled efforts to conserve open land. He helped us preserve our Civil War Park, Crow's Nest and Widewater State Park through his support of land conservation. He worked hard to find – and enact – solutions for our transportation challenges.
As impressive and substantial as those accomplishments are, Bill's best contribution to Stafford County is his love of the people and the history of the area. Bill and Cessie Howell never failed to greet their constituents and neighbors with warm smiles of welcome. We will greatly miss Speaker Howell's exemplary leadership. We thank him for the many things he accomplished for Stafford County and the sacrifices he and his entire family made to serve the people of Virginia."
Post Your Email Notices, Press Releases, Event Fliers, and Photos
Subscribe to the weekday Breakfast Links email FREE!
Get
updates straight to your inbox.