Baldwin Elementary School clean-up effort 'extensive'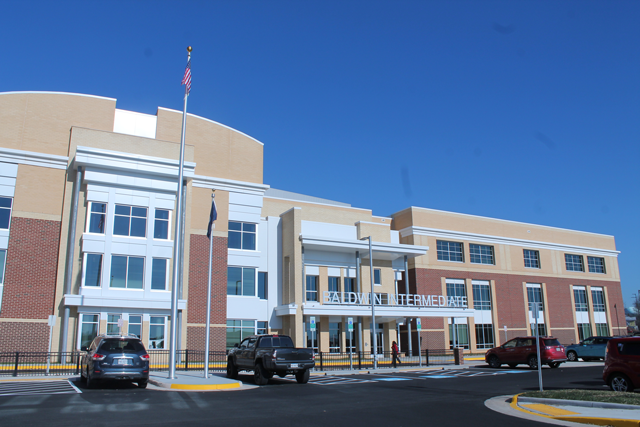 The new Baldwin Elementary School in Manassas closed its doors Tuesday and will be closed again Wednesday due to a pipe burst.
The pipe burst at about 2 a.m. Tuesday, according to school officials. The temperature at Washington Regan National Airport at that time was 17 degrees.
Here's a statement from Manassas City Public Schools Executive Director of Finance & Operations Andy Hawkins:
Early this morning we were notified that a water pipe had broken at Baldwin Elementary School and water was flowing from the ceiling on the 3rd floor extended learning area down to the second and first floors which house K through 3rd-grade classrooms.

Our Maintenance team and the custodial teams from both Osbourn High School and Baldwin responded. We also contacted an outside vendor (A-1 Flood Tech) to assist us in in the remediation effort.

A review of our security camera footage documented that at approximately 10:15 last evening water started leaking from an Outside Air Unit. This unit circulates fresh air throughout the building.

An outside air damper was inadvertently locked into the "open" position which caused a dehumidification coil to freeze and a pipe burst causing the release of the water. A motion detector on the second floor sent an alarm at approximately 2:00 a.m. The Manassas City Police responded and made the appropriate notifications.

There are no motion detectors on the 3rd floor since their primary function would be to detect an intruder which would be detected on the 1st or 2nd floors. As a result of this occurrence, motion detectors will be installed on the 3rd floor.

While the clean-up effort was extensive, there was no permanent damage to the building. Currently the appropriate repairs have been made and clean-up crews are at Baldwin. Fans and dehumidifiers will continue to run throughout the night and all day tomorrow. Air quality tests are being completed to insure the safety of our students and staff. Students will not report to school tomorrow and staff will report at their normal time.

The cost for this restoration will be the responsibility of the building contractor and we are keeping track of any and all overtime, equipment damage, ceiling tile costs, vendor costs, etc. These costs will either be paid directly by the building contractor or the cost will be deducted from the building retainage.
Baldwin Elementary opened last month at a cost of $38 million.
Post Your Email Notices, Press Releases, Event Fliers, and Photos
Subscribe to the weekday Breakfast Links email FREE!
Get
updates straight to your inbox.