Five ways Manassas Park Parks and Recreation staff stay motivated to workout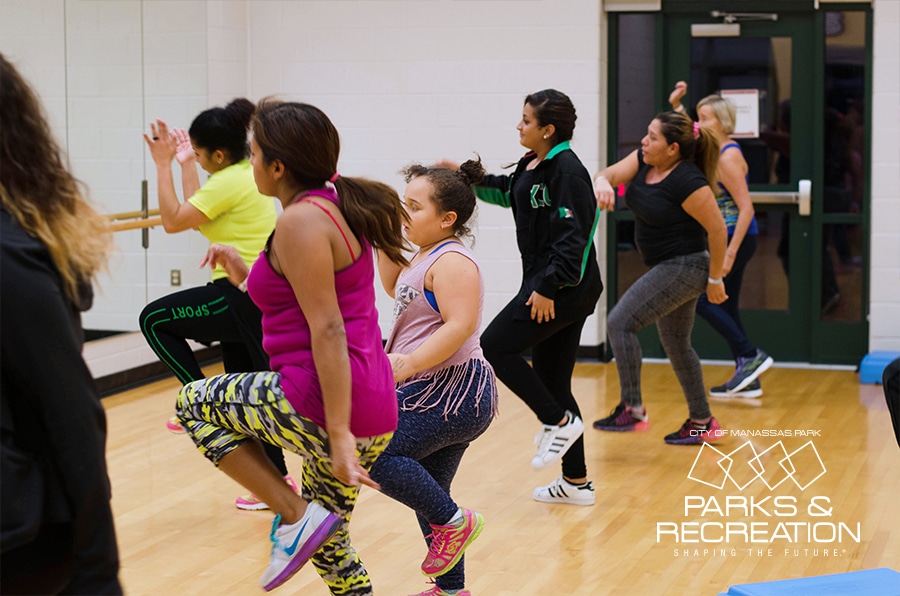 To many of us, the new year is an excuse to finally get motivated to work out and lose weight. Working out regularly is easier said than done because, for so many of us, it's incredibly difficult to get, and then keep, the motivation to continue working out.
Here are some helpful hints from the Department of Parks and Recreation staff at the Manassas Park Community Center in regards to getting past the intimidation of working out, finding the motivation to work out, and keeping that motivation!
1. Set a goal to inspire you and keep you motivated
Whether you're trying to advance professionally or looking to start working out, having clear goals help you stay focused and motivated especially during periods where you feel like you've plateaued. Operations/Aquatics Supervisor Sarah Barnett says even though she began working out as a student, she finds it harder and harder to stay motivated as a mom with a full-time job.
"I attended college on a running scholarship and felt like I was sort of getting paid to run," she shares, "But now I find the best way to stay motivated is to sign up for a race or a marathon, and that forces me to stay motivated."
Stay on task by setting clear goals using the SMART system; goals should be specific, measurable, attainable, relevant, and timely. Getting ready for your first 5K easily follows the SMART system and can help propel you to setting more SMART goals.
2. Find someone to keep you accountable
Having a friend or hiring a personal trainer can really help you get the most out of your workouts. They can help ensure you're using proper form, inspire you to try a new exercise, and help motivate you to steadily and safely push yourself to get you closer to your goal. One of the most important advantages of working out with somebody is that they can help keep you focused.
"I need an accountability partner as a motivator so I work out with a trainer," says Jacqueline Tyre-Perry, Recreation Specialist for School Age Programs. Tyre-Perry knows she will be tempted to take shortcuts if she does not have that extra person tracking her progress. "Seeing results also motivates me, but the best motivator for me is definitely a trainer. When they say, 'Give me five more reps!' you know they're pushing you while cheering you on."
3. Work out in a group setting to motivate you to keep coming back
Working out with friends isn't only great for accountability, but it makes the gym and working out fun instead of a chore. Park Manager AJ Tibbs says he began working out a couple of years ago because he wanted to get healthier, but now he likes going to the gym because he has tons of friends there.
"Now, working out has become a hobby for me," Tibbs says, "Life is too short, you really got to have fun while you can. I love going to the gym because I like to socialize there while I work out with weights."
Marketing Manager Jason Shriner says he never worked out when he was younger. A former baker, he remembers watching a video by one of his food idols Michael Pollan where Pollan suggested to eat what you want, but make it yourself. Following this rule will keep you from overindulging (french fries take a lot of effort to make!) but you will also know exactly what you are eating.
However, he realized that eating healthy isn't enough to have a healthy lifestyle. He remembers hearing a story on the radio where a 30-year-old nurse had a heart attack. "When I heard that story, I was about two years from turning 30, and I thought to myself, 'If a nurse has a heart attack, what chance does a baker have?'" Shriner recalls.
He started working out on his own at a gym, but he really started to love working out when he took boot camp at the Community Center – his first group exercise class.
"I like working out in a group setting like boot camp because you never feel alone. Everybody is giving their all right next to you! Honestly, some of my favorite times are when the instructor does the craziest exercise, and we all just start laughing because we think it's impossible – but then we try it together and succeed!"
4. Use working out as a chance to recharge your mind
Study after study has shown that exercise can help improve your mood as well as provides a myriad of mental benefits. When you've had a really stressful day, it can be really satisfying to channel that frustration in a healthy way by lifting weights.
"When I work out, I like to be alone so I can just think," says Jay Swisher, City of Manassas Park, Department of Parks recreation director. Swisher began working out as a school athlete to compete on the field, to be more competitive, and to enhance his sports abilities. "This led to a real interest in fitness and nutrition, which I studied in college. My interest in working out began as physical, but as I have grown older, my interest has become more mental as I use working out as my excuse to decompress and de-stress."
To get the most mental benefit out of your workout, find a routine and a setting that works for you. Try jogging through a park, such as Signal Hill Park, to take in all the beautiful green scenery and sunshine. Once you find that perfect mix of scenery, routine, and music, you'll naturally be drawn to working out.
5. Track your workout to measure your progress and use technology to help keep you accountable
When you start working out over several months, it's easy to lose track of how much weight you've been lifting or how long you've been running three miles. Using a notetaking or fitness app on your smartphone can help keep you on target with your fitness goals. When you notice you haven't increased your weights in three weeks, it could motivate you to add an extra five pounds.
Speaking of technology, if you prefer working out on your own getting a fitness device can also help you stay motivated.
"My Apple watch was a Christmas gift from 2015, and it came with an app to help you track your workouts," says Amelia Powell, Customer Service Supervisor. "The watch buzzed everyday reminding me to exercise. All those buzzes finally took their toll, and finally, on February 8th, I began running," she said.
Reminders aren't the only feature you can expect from fitness devices. Apps can also help you keep track of health metrics such as heart rate, exercise frequency, and calories consumed. Plus, the app can make sure you achieve your daily goals.
"The app gives you completed circles each day you complete your workout. I have met my current fitness goal, but I still like seeing those completed circles on my watch. In fact, those completed circles keep me motivated to continue working out," Powell explained.
Once you begin working out, you will find your own reasons to stay motivated just as the some of the staff members at Parks and Recreation have. We wish you much success with your fitness goals, and remember the Manassas Park Community Center offers group exercise classes such as Zumba or boot camp as well as qualified and certified personal fitness trainers to help you meet all of your fitness needs. Here's to a healthy 2017!
The Manassas Park Community Center is located at 99 Adams Street in Manassas Park, VA. Managed by the City of Manassas Park Department of Parks and Recreation, the facility is home to basketball courts, a swimming pool, and wellness areas as well as a variety of special events and programs.
For more information visit us at www.ManassasParkCommunityCenter.com or call at 703-335-8872.
Post Your Email Notices, Press Releases, Event Fliers, and Photos
Subscribe to the weekday Breakfast Links email FREE!
Get
updates straight to your inbox.
Readers also enjoyed...
A word from our sponsors...