Introducing corporate and non-profit rental packages at Manassas Park Community Center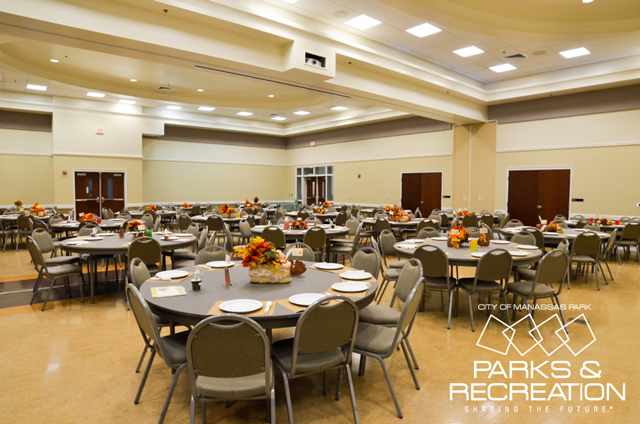 As you begin planning for your corporate holiday party, you ask yourself several questions: Will there be a dress code? What kind of food will be served? Will there be a theme? It seems like the list is endless! After all, most businesses do not have professional party planners, so for the person who actually plans the holiday party, the task can feel daunting.
Luckily there is an easy solution – and it is conveniently located right in Manassas Park. The Manassas Park Community Center (MPCC) is ready to meet all of your special event needs with its spacious banquet hall and numerous meeting rooms available to rent.
Amelia Powell, Customer Service Supervisor at MPCC says she is the concierge for the venue of endless possibilities.
"We really make it easy to rent space here. From our clean facilities, to our knowledge of area vendors, we can help you make your corporate or non-profit holiday party or event the best one yet," Powell said.

"We hope you notice the extra efforts we put forth to maintain a clean, safe, and professional atmosphere," she added, "In addition, one of my favorite features that sets us apart from other venues in the area, are our knowledgeable instructors who can help you develop teambuilding exercises as part of your event."
There are several banquet hall rental packages designed to complement your company's specific needs.
"A few years ago, a sorority rented the facility and wanted a dance floor, so we worked with them to provide one, and now a dance floor is part of the packages offered here," Powell said.

"One of the first things I tell people who are interested in renting space at MPCC is to make a timeline. The details will be the difference between a good event and a great event, and we will work with you to make sure you stay on top of the little details so that you have a great corporate event here," she added.
There are three separate corporate and non-profit rental banquet hall packages at MPCC to maximize your company's needs.
The first package is called "The Formal Piece" where your company would rent the full banquet hall for four hours. It's the perfect package for holiday parties, training, and large luncheons. The banquet hall seats 230 people and includes the caterer's kitchen and the pre-function area.
The second package is called "Smart Casual" and includes half the banquet hall, caterer's kitchen, and pre-function area for six hours. Half the banquet hall provides seating for 115 people. You also get a wireless mic, projector, and a podium making this package perfect for half-day conferences, lunch-and-learns, or training.
This "Smart Casual" package is perfect for holiday parties and events where you want to announce or call attention to staff who have exceeded your expectations. "This is the package businesses use when they want to take advantage of our instructor's team building exercises," Powell further pointed out.
The third package is called "Argyle Style" where you would rent the full banquet hall for four hours, and is great for holiday parties, celebrations, or casual events allowing for your company's fun side.
"This plan includes a dance floor and activity tables and was added after the sorority's event I mentioned earlier," Powell stated.
The Argyle Style package is perfect for company parties where the employees' spouses and families are invited, as it includes a 12' X 12' dance floor, seating for 230 people, caterer's kitchen, and pre-function area.
The caterer's kitchen, included in all three packages, is 1,082 square feet with a six-burner gas range, convection ovens, warming ovens, ice machines, and stainless steel tables. There are several add-ons available for each of the packages including additional hours, childcare for up to 30 children, alcohol on–site, and audio-visual amenities.
Drum roll please!
This year, MPCC is introducing a new Non-Profit Scholarship.
"There are so many excellent non-profit organizations in the area who do not have the budget for renting a large space, so we thought why not help those who help others by providing the rental space and offer a specific Non-Profit Scholarship to help pay for that space," Powell said.

"If you know of a non-profit looking for space for their annual gala or fundraiser, please let them know about this scholarship," she added.
Renting banquet space at the Manassas Park Community Center is the best solution for area companies who are looking for that perfect venue for a fun corporate event where all of the people involved will mingle actively during the company's holiday celebration. In addition to the banquet hall packages, there are also multi-purpose room and conference room options presenting affordable solutions for smaller organizations. If your company is looking for a one- or two-day retreat, there is also a package that takes advantage of the facility's robust recreational amenities
"We have the perfect space to suit any company or corporate event you are planning," Powell summarized. Call the Manassas Park Community Center today at 703-335-8872 and ask for Amelia Powell, your concierge for the venue with endless possibilities.
The Manassas Park Community Center is located at 99 Adams Street in Manassas Park, VA. Managed by the City of Manassas Park Department of Parks and Recreation, the facility is home to basketball courts, a swimming pool, and wellness areas as well as a variety of special events and programs. For more information visit us at www.ManassasParkCommunityCenter.com or call at 703-335-8872.
Post Your Email Notices, Press Releases, Event Fliers, and Photos
The FREE email packed with local news
The FREE email packed with local news
The FREE email packed with local news
Sign Up