Join in on the Pickleball sensation at the Manassas Park Community Center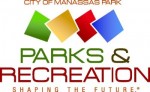 Manassas Park Community Center
Address: 99 Adams Street Manassas Park, VA 20111
Phone: 703-335-8872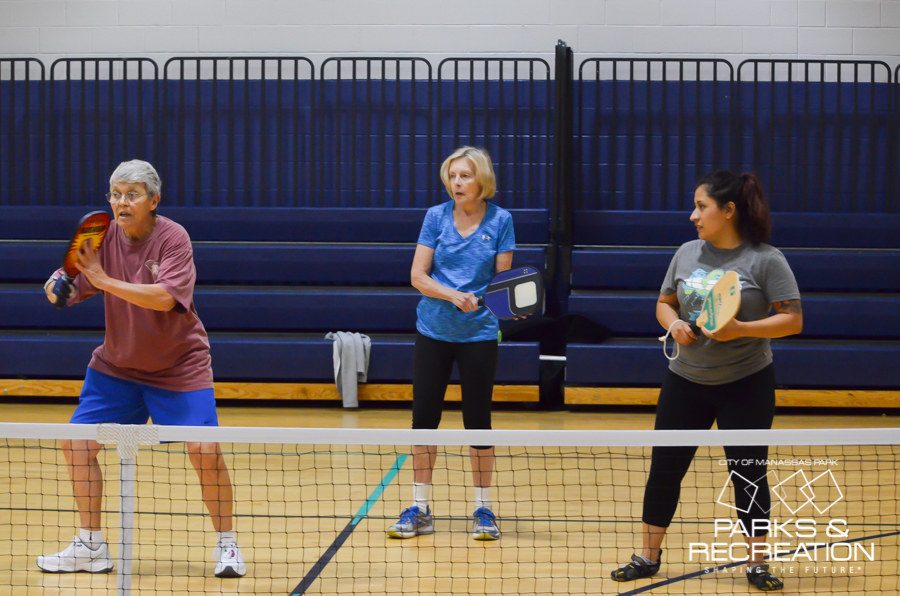 Football may be the sport everyone is talking about on any given Sunday. But, on any given Tuesday, Thursday and Friday morning between the hours of 8 and 10 a.m., the sport we're talking about (and playing) is Pickleball.
Stop by the Manassas Park Community Center during these times, and you'll see a group of dedicated Pickleball players tearing it up. This is a sport whose popularity is skyrocketing-–not only here at the Community Center, but everywhere.
Pickleball is a racquet sport that combines tennis, badminton, and ping-pong. It is played indoors or outdoors on a badminton-size court with a modified tennis net. It is played with a plastic paddle and a plastic ball (similar to a whiffle ball), and is played as doubles or singles.
Pickleball was accidentally invented in the mid-1960s by three families who were actually trying to play badminton, but they could not find the shuttlecock or a full set of racquets. So they combined parts of tennis, parts of badminton, and parts of ping pong, and joked the sport was created with the leftovers of these sports.
This reminded them of pickle boats because pickle boats are manned with the leftovers of other boats. Pickle boats became Pickleball.
Now that you have a little history of the game of Pickleball, you need to try it. Consider joining the Pickleball group that plays every Tuesday, Thursday, and Friday from 8 to 10 a.m. at the Manassas Park Community Center.
"Our group plays to have fun; we really aren't very competitive," explained Bonnie Ballentine, a retired teacher who has become the unofficial spokesperson for the Pickleball group at the Community Center.
Her friend, and Pickleball teammate, Judy Nevitt, also a retired teacher added, "The game of Pickleball can progress very quickly, but initially, you just want the basics, the strategies will come later."
"Pickleball can be played competitively; in fact, almost every state has a state senior game, and here in Northern Virginia, we have the Northern Virginia Senior Olympics," explained Ms. Ballentine.
Both ladies pointed out that the Community Center provides paddles which the ladies admitted are good for beginners.
"We encourage all new players to try the beginner's paddles provided by the Community Center. Our group will also offer our own racquets so that new players can see which they prefer, then we introduce the basics of the game," Ballentine explained.

"Really, the best way to play Pickleball is to get out there and learn as you go," she added, "The rules are kind of quirky and we find it easier for people to understand the rules if they learn the rules as they progress."
Pickleball isn't just about the game. As you play week after week, you build bonds and make new friends.
"We play three times a week—it's a steady thing. Our group is so nice, and we love playing so much that we even have a back-up plan if we can't play here at the Community Center," Ballentine shared.

"We also get together socially at least four times a year for lunches and to celebrate the holidays," Ms. Nevitt added.

"We really are a dedicated group," Ms. Nevitt emphasized, "One of our group members was stiff with arthritis and had a hard time moving when he first started playing. But slowly, he began to progress, and now we tease him that the more he plays, the better he moves."
"Sometimes, when you look in the gym, depending upon which of our Pickleball players is there, we look like we are held together with Velcro," Ballentine laughed. "I've got bad knees, Judy also has bad knees, but it doesn't matter because we are staying active and having a great time."
Nothing stops the Manassas Park Community Center Pickleball group from playing their game!
"We have a good time and we laugh a lot," agreed Ms. Ballentine and Ms. Nevitt.

"We like to introduce people of all ages to our favorite game," Ms. Ballentine pointed out, "Once, when we were playing outside, a teenager heard us playing and laughing and came over to see what all the fuss was about. He was there watching a baseball tournament, but ended up playing Pickleball with us!"
You will enjoy it too, just stop by the Manassas Park Community Center on Tuesday, Thursday, and Friday from 8 to 10 a.m.  and join the Pickleball enthusiasts who welcome all who want to play their favorite sport. Also check out the guided instructional programs such as Introduction to Pickleball which is currently on Wednesdays from 7 to 8 p.m.
The Manassas Park Community Center is located at 99 Adams Street in Manassas Park, Va. Managed by the City of Manassas Park Department of Parks and Recreation, the facility is home to basketball courts, a swimming pool, and wellness areas as well as a variety of special events and programs. For more information visit us at www.ManassasParkCommunityCenter.com or call at 703-335-8872.
This post is written and paid for by Manassas Park Community Center.
Post Your Email Notices, Press Releases, Event Fliers, and Photos
The FREE email packed with local news
The FREE email packed with local news
The FREE email packed with local news
Sign Up