The Kids Triathlon at the Manassas Park Community Center is Much More Than Just a Race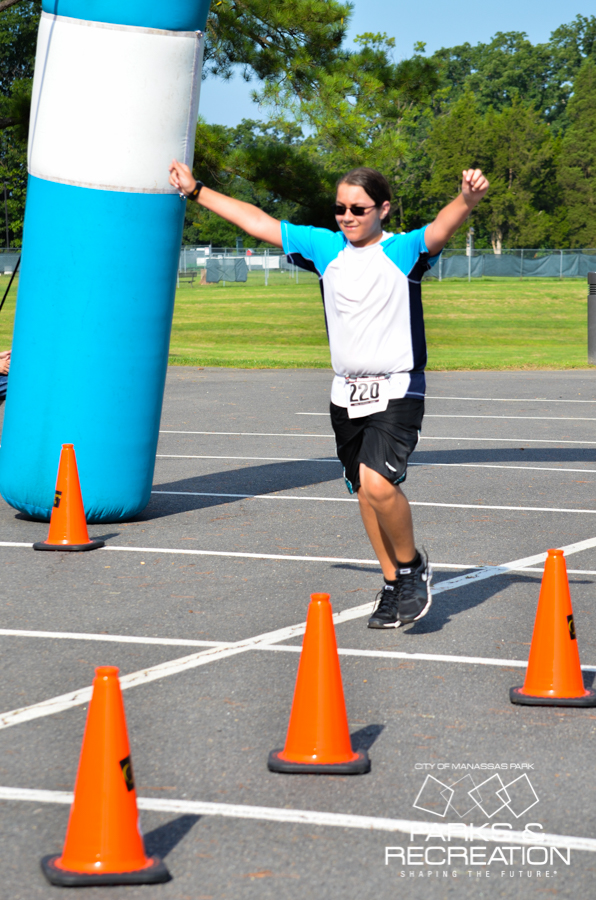 A triathlon is defined as the completion of three continuous and sequential endurance disciplines. While many variations of the sport exist, a triathlon, in its most popular form, involves swimming, cycling, and running in immediate succession over various distances.
Ask anyone who likes to participate in a triathlon why they like them and they'll tell you triathlons are great way to stay in shape. As a bonus, you can compare your completion times against other participants and against yourself to attain your personal best time.
On August 13 at 8:30 a.m. at the Manassas Park Community Center, kids between the ages of 8 and 12 can participate in the City of Manassas Park, Department of Parks and Recreation triathlon which is held rain or shine!
"Of course if the weather is raining like it did on July 4th, we might have to reconsider," joked Recreation Services Supervisor, Tony Thomas. "All kidding aside, this triathlon is a great event for kids because it allows kids who have never competed before to get out there and actually compete. For kids who have completed a triathlon, they can compare their times and use this experience for their next triathlon," he added.
Participants are separated into two groups based on age: the 8 and 9-year-old children form the first group, and the 10-12-year-olds form the second group.
"These groups compete together, which makes everything go smoother," said Thomas. "The participants begin and end the race at the same place so that their parents and friends can cheer them on at the beginning and again at the end of the race. We have lifeguards in the pool and course marshals set up throughout the course. Plus, we will have lots of volunteers handing out water to keep all the participants hydrated."
The order of events at this year's triathlon is swimming, cycling, and running.
"We start in the pool where the younger kids swim one 50-meter lap. The older kids swim two laps or 100 meters. After that they ride their bikes. The younger kids, ages 8 and 9 will ride 1 ½ miles, and the kids ages 10-12 will ride for 3 miles. For the last event the kids will run. Ages 8 and 9 will run ½ mile and ages 10-12 will run 1 mile."

"I want to emphasize that if a kid doesn't finish the race, it isn't the end of the world," Thomas pointed out, "We are far more interested in providing safe place for the kids to have fun and to shoot for their personal best than to have an ultra-competitive forum that turns kids off to competitive sports."

"Last year, there was a kid who was really pushing himself to finish the race. He was walking – instead of running – at the end of the race. It was obvious that this kid was really pushing himself, and the other kids ended up cheering him on so that he would actually finish the race," said Kaitlyn Collier, Special Events Coordinator Assistant.

"It was so great to see because while a triathlon is competitive, the kids came together as a group for this one participant," she added. "It really was special."
At the end of the race is an arch donated by Amazing Race Timing. As the participants from both age groups cross the finish line, their times are called.
"We call times for each participant. It usually takes anywhere from 35-120 minutes from start to finish, and the younger kids usually finish last, but they all really want to hear their times," said Thomas. A participant can ask that their time not be called out loud prior to the start of the triathlon.
"This is our fourth consecutive year hosting the kids triathlon, and we have kids come every year to compete from all over," said Collier. "Last year, kids came from Virginia Beach, DC, Herndon, and Fairfax."
Each participant receives a race day bag which contains healthy snacks, a t-shirt, sponsor coupons including free passes to the MPCC and Signal Bay Waterpark. "If it is really hot outside, participants are invited inside the air-conditioned Community Center to cool down," said Collier.
"Don't let the word triathlon scare you away; instead, use this experience to have fun and shoot for your personal best," said Thomas, "That's what this day is all about, competing, doing your best, having fun and maybe even meeting some new friends."
Last year, the best overall time was 33 minutes. Do you think you can beat that time? Come compete in the Manassas Park Community Center triathlon on Saturday, August 13th at 8:30 am and find out! The registration fee is only $25 and can be done online by clicking here.
For more information and for updates click here to check out the MPCC Triathlon Facebook page. You can also contact Kaitlyn Collier directly at K.Collier@manassasparkva.gov.
The Manassas Park Community Center is located at 99 Adams Street in Manassas Park, VA. Managed by the City of Manassas Park Department of Parks and Recreation, the facility is home to basketball courts, a swimming pool, and wellness areas as well as a variety of special events and programs. For more information visit us at www.ManassasParkCommunityCenter.com or call at 703-335-8872.
This promoted post is paid for by the Manassas Park Community Center.
Post Your Email Notices, Press Releases, Event Fliers, and Photos
Subscribe to the weekday Breakfast Links email FREE!
Get
updates straight to your inbox.
Readers also enjoyed...
A word from our sponsors...