City of Manassas celebrates its business community in May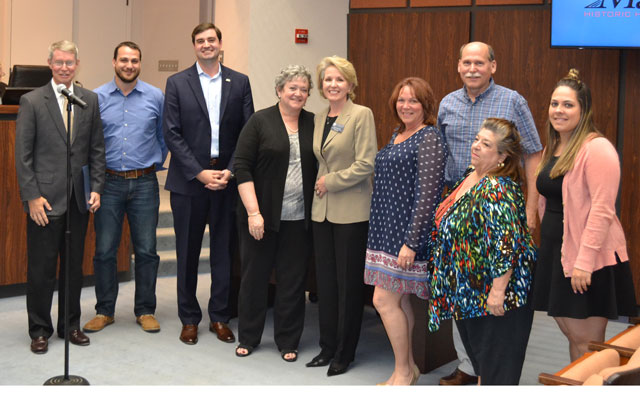 Recognizing that businesses are the backbone of Manassas, the Manassas City Council recently issued a proclamation night declaring May "Business Appreciation Month."
"The strength of the City of Manassas relies on the strength of its business community," says Mayor Harry J. Parrish II. "Our businesses create jobs and make the City a great place to live, work, and do business."
Through Business Appreciation Month, the City of Manassas honors and celebrates its thriving businesses and the engaged business owners who are very involved in the community. They enthusiastically support local service groups, youth activities, and participate in events like this week's upcoming First Friday Gallery Walk where downtown merchants will showcase local artists' works.
According to the Virginia Employment Commission, the City has 1,446 business establishments within its boundaries. Its businesses range from new start-ups to corporations with more than 1,000 employees and feature unique shops, restaurants offering a spectrum of cuisines, and even breweries and a distillery.
To thank the business owners and operators who choose to be located in the City, the City of Manassas and the Prince William Chamber are hosting a free Manassas Business Appreciation Breakfast on Wednesday, May 11, 8:00-10:00 a.m. at the Center for the Arts (9419 Battle Street, Manassas). Local businesses are encouraged to spend the morning networking with each other and mingling with the mayor and members of the City Council. Members of the business community may attend this invitation-only event by contacting Mary Leslie at the Chamber at 571-765-7569.
Post Your Email Notices, Press Releases, Event Fliers, and Photos
The FREE email packed with local news
The FREE email packed with local news
The FREE email packed with local news
Sign Up