A lucky mom will get a 'Gift Basket by Lisa Marie'
The Manassas Park Community Center wants to give one lucky mom a makeover to remember this year.
Several businesses, like Lisa Marie Briones's "Gift Baskets by Lisa Marie," donated services to make this year's Manassas Park Mother's Day Makeover a success.
We asked Lisa why she wanted to participate in this event.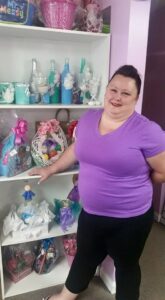 MPCC: What is your business?
LMB: Pre made and custom made gift baskets as well as custom made centerpieces for all occasions.
MPCC: What makes your business unique?
LMB: I can customize any basket to the customer's liking within reason.
MPCC: Why do you think customers choose you and your business?
LMB: Well, since my business is new and just getting off the ground I would l want my future customers to expect to get quality baskets.
MPCC: What is your favorite Mother's Day memory?
LMB: I don't really have one. But every year I go and visit my Grandmother and spend the afternoon with her. Seeing her happy is always the best memory.
MPCC: What drew you to donating to the Mother's Day Makeover Contest?
LMB: Every mother should feel beautiful and appreciated.
MPCC: Why do you think being involved in the community is important for business owners?
LMB: Being part of the community is important, because it gets their business known. And sets a positive image on your business knowing that you are part of the community.
MPCC: What are other causes and non-profits you support?
LMB: St. Judes
Post Your Email Notices, Press Releases, Event Fliers, and Photos
Subscribe to the weekday Breakfast Links email FREE!
Get
updates straight to your inbox.