The first middle school to open in Dale City will have a new name.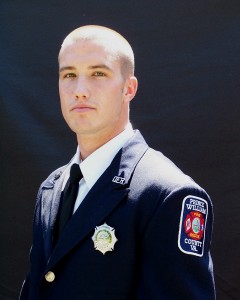 Mills Godwin Middle School, named after a first-term Democratic Virginia Governor heralded for his work in the community college system, will be renamed George Hampton Middle School in the fall.
A new elementary school being built about three miles away will be named after Kyle R. Wilson, who at the age of 24 was the first career firefighter in Prince William County to die in the line of duty. Wilson went into a burning house on Marsh Overlook Court on April 16, 2007 to rescue people whom he thought to be inside. No one was inside the house, and Wilson became trapped and died.
Hampton retired from the Army a Lt. Colonel, worked as a research scientist, and as assistant professor of military science at Virginia State University. Multiple Virginia governors appointed Hampton to serve in several state positions to include roles on the Parole and Alcohol Beverage Control boards.
The 87-year-old was present for Wednesday night's meeting and was honored by those who spoke in his favor of him for his philanthropic and volunteer work with children in Prince William County.
A naming that divided a community 
For weeks officials on the Prince William County School Board wrangled over what to call what, up until now, had been dubbed "Ferlazzo Elementary" near the intersection of Minnieville and Spriggs roads in Woodbridge. The prominent Ferlazzo family of Prince William County donated the land to be used as a school.
Hundreds packed the county School Board meeting to watch the governing body make the naming decision. The room was divided by racial lines, with the majority of black attendees and supporters of Hampton sitting on the left, and the majority of whites and Wilson supporters on the right.
Coles District School Board Member Willie Deutsh put forward a failed motion that ended in a tie vote to name the new school after Wilson. A second motion by Occoquan member Lillie Jessie to name the elementary school after Hampton also failed in a tie vote, with school board Chairman Ryan Sawyers, and members Allison Satterwhite, of Gainesville, Gill Trenum, of Brentsville, and Deutsh voting no.
Compromise 
After a brief recess, Potomac District School Board member Justin Wilk spoke out for the first time that evening on the issue and injected segregation into the conversation.
"When we talk about walking into a building, and [naming after] someone to idolize… I'm going to propose this… you can hate me… whatever… there is a school right now where kids walk in and they're the minority and it's named after a segregationist governor in Dale City, Godwin Middle School," said Wilk.
In an 11th-hour move, in a meeting that had focused on this one subject for nearly four hours, Wilk motioned to rename Godwin after Hampton, and the new elementary school after Wilson. The move drew applause from both sides of the room, and the Board unanimously approved the measure.
Color lines 
Godwin, who became a Republican for his second term as Virginia Governor, is remembered for his segregationist stance during "massive resistance," after federal courts ordered schools integrate black students into their populations.
As racially divided as the room had been before the vote, the School Board itself also appeared split across color lines. White school board members supported naming the school after Wilson and black members supported Hampton.

"One of the things that I heard while over at the school, I think it was Saunders [during a school naming committee meeting that convened prior to Wednesday's School Board vote] and someone on the Kyle Wilson side a school, with a picture of him up on the wall, would help kids to learn and they could feel very comfortable and proud. Well, I thought about and I said 'that really sounds good.' And then I thought If' you've got Dr. George's picture up on that wall, why would they not learn?
Deutsh said there was "tension" in the room over the naming decision. A proposal put forward by him to name the Ferlazzo school after Wilson and the next elementary school to be built at Potomac Shores near Dumfries after Hampton got no traction, he added.
"There's an old saying that an eye for an eye and a tooth for a tooth makes the whole world blind and toothless. We as a Board cannot keep re litigating the past," said Deutsh.
That comment was met with laughter from a handful of people sitting on the mostly black side of the room.
"Wow… wow…" he then muttered, and Deutsh stopped speaking.
Reached by phone today, Deutsh said his "re litigating the past" comment referred to another recent school renaming controversy. The Board in 2014 decided not to name a new Haymarket Elementary School after the late black business man and community activist Faxie Burke.
Jessie: It's County Government's job, not ours 
Jessie pushed for naming the elementary school after Hampton. Several audience members pulled up the VPAP website which showed Hampton donated $200 to her most recent reelection campaign and asked whether or not she had to recuse herself from voting. The School Board has no such policy, said Prince William County Public Schools spokesman Phil Kavits.
The Occoquan School Board member was clear that she wanted to honor Wilson's service to the community, but said the Prince William County Board of Supervisors should build a memorial to honor all fallen heroes, and not leave it up to the School Board to name schools after them.
"It's time for the board of Supervisors to get this right. This has fallen on the school system, but it's bigger than us," she said of the task of honoring Wilson's memory.

Three memorials at the Prince William County Government Center honor the fallen. A war memorial lists the names of the dead from Prince William County, a reflecting pool, and steel beams from the World Trade Center in New York City honor those from the county who died in the terrorist attacks of  Sept. 11, 2001.