Shield Analysis Technology closes the gap in cyber security with data fusion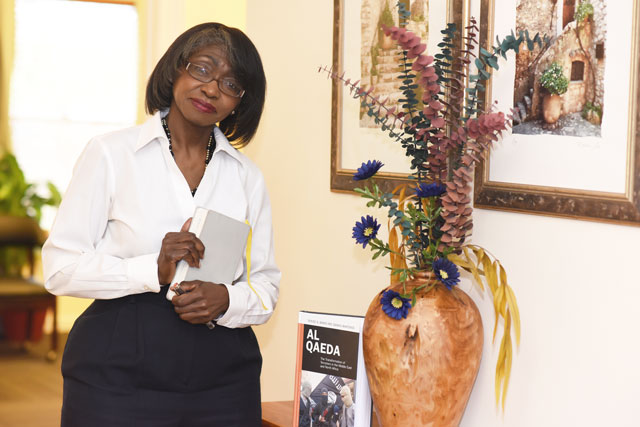 Interpreting user data on the internet is the emerging front line in the battle against cyber-terrorism.
Whether the attack is chemical, biological, or a mass shooting, as the one in San Bernadino, Calif. late last year, researchers at Shield Analysis Technology use information posted to websites to help trace who might be responsible for these crimes, why they occurred and how to respond.
"I use open source data. You would be surprised at how much data is actually available," said Dr. Denise N. Baken, Founder of Prince William County-based Shield Analysis Technology.  "If you look at what is openly available you can identify much of what could be a threat, our vulnerabilities here in the U.S., and our gaps in security."
Baken established her business on counter-terrorism, intelligence operations and analysis working with clients, such as the Federal Government to interpret information to identify weaknesses in the country's defenses. She has a close eye on terrorist groups like ISIS, an enemy she said is unlike the U.S. has seen before — an entity with no geographical country, funded by an organization that is operated as a business.
"We in this country have a visceral response every time they do something. We have to control that. They're banking on that," said Baken.
Baken uses common information sharing sites, like Facebook, in her quest to understand how ISIS could carry out attacks to kill U.S. citizens.
"If on my Facebook I put my birthday, because I want people to remember my birthday, that's a start," explained Baken.
"And they're a lot of domains that ask for the last four digits of your social security number.  If you go to enough open source places I can gather enough data about you… I can gather data on almost anyone.  And it is legally obtained," added Baken.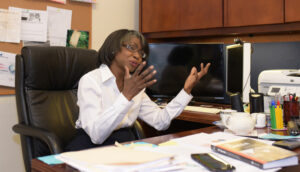 Baken started Shield Analysis Technology in 2007 at the Mason Enterprise Center (MEC) on the George Mason Science and Technology Campus in Prince William County, which is now home to the Virginia Serious Game Institute for game design.
After a career in the Army that included assignments working on Capitol Hill and assisting the Secretary of Defense, the business incubator was a catalyst for her start-up company's growth.
"I found that as a woman when you're working out of your house, you're not taken seriously.  The MEC provided us that platform to have a presence, and to be near the university to finish the research that I needed to complete that book," said Baken, pointing her a bookcase in her office.
That book is Al Qaeda: The Transformation of Terrorism in the Middle East and North Africa.   The book reviews the terror organization's foundation, evolution, operational structure and doctrine. Baken authored wrote it while working in Prince William County.
Her initial research and notes for the book took the form of notes sprawled out on the MEC walls. The communal conference room served as a place to gather with clients and others who worked inside the MEC to brush up on seminars and skills.
"For all of us, there was this family that wanted everybody to succeed and it was their support that truly offered me the wear-with-all to do this business, and to support my clients," said Baken.
After outgrowing the incubator and moving into new offices, Shield Analysis Technology will continue searching for vulnerabilities in our nation's defenses.  The company is now looking at new methods used by ISIS to communicate and recruit using anonymous messaging applications on phones and computers.
Once terrorists "piggybacked" off of commercial servers or off the private accounts of users at their homes.  Today, Corporations have closed those doors, in the guard against this type of cyber-attack, once they became aware of who and how their technologies were inadvertently being used.
As for ISIS being run like a business? The organization now has its own servers to use to communicate.
"We, the victims of these communications, no longer have a way just to close them down and say 'problem solved,' Baken said. 
Learn more about Shield Analysis Technology.
This promoted post is written by Potomac Local under an agreement with Prince William County Department of Economic Development to showcase business in the region.
Post Your Email Notices, Press Releases, Event Fliers, and Photos
Subscribe to the weekday Breakfast Links email FREE!
Get
updates straight to your inbox.