Dumfries, Haymarket urge transit rail studies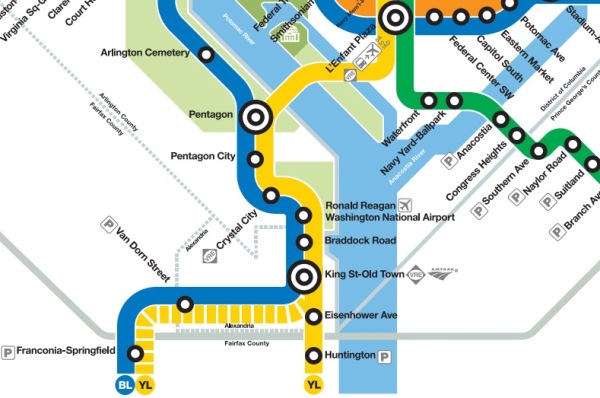 Politicians in Prince William County's towns want to explore the possibility of expanding rail transit service.
Dumfries Mayor Gerald "Jerry" Foreman penned a letter to Rep. Gerald "Gerry" Connolly about the importance of studying a possible extension of Metro to Dumfries. Connolly introduced a bill in Congress earlier this year to complete such a study.
Here's a portion of the letter:
The Council encourages expansion of the Metro as any extension would stimulate commerce, economic development, job growth, and increase real estate development along Metro accessible areas. With 76% of Dumfries residents driving alone in their vehicles, any creation of alternative transportation would protect the environment by reducing a number of vehicles on the roadways, thus lowering fuel consumption.
Metro service runs as far south as Springfield on the Blue Line. Buses in Woodbridge ferry passengers to and from the Franconia-Springfield Metro station six days a week so they can make connections to the trains.
As usual, Metro has popped up as a campaign issue this year for both Foreman, and his opponent Scott Surovell. Both men are running to replace the long-serving Democrat Toddy Puller in the Virginia Senate in Richmond.
Happening now: press conference on the urgency of transit-oriented development @ssurovell @KrizekForVA pic.twitter.com/YqSWSr9zTS

— Dan Storck (@DanStorck) July 21, 2015
Voters will head to the polls to decide who will replace Puller on November 3. 
In Haymarket, the Town Council this month approved an ordinance supporting a more than two-year study that would examine what it would take to extend Virginia Railway Express to the town. 
Virginia's only commuter railroad is eyeing the possibility of adding three new stations — Sudley Manor outside Manassas, Gainesville, and Haymarket. The new stations would be located on a rail line that is today trafficked by freight trains known as the Norfolk-Southern "B line."
Virginia Railway Express has two lines: Manassas and Fredericksburg. Manassas line trains would serve any extension to Haymarket. The current terminus of the Manassas line is the Broad Run station at the Manassas Regional Airport.
Post Your Email Notices, Press Releases, Event Fliers, and Photos
The FREE email packed with local news
The FREE email packed with local news
The FREE email packed with local news
Sign Up