Moser: I'll Help You Coordinate Neighborhood Clean Ups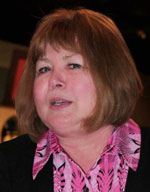 We've lived in our home for 24 years. We redesigned it, rearranged it, and built an addition on it. We moved the kitchen from a tiny hot room upstairs to a large room downstairs that we created out of the two lower level bedrooms. We extended and widened the driveway, built a garage, replaced the roof, and installed new windows and siding over that span of time.
We re-built our home a little by little, remodeling by removing walls and ceilings, installing new wiring, plumbing and insulation as we went. Every piece of woodwork is hand stained, as is every door. We learned to garden. We learned as we went sometimes out of necessity like when water seeped into the family room and I (not we!) dug down to the footers. I learned to parge on that project, wedged in a narrow trench between the driveway and the house.
We installed glass block in a bathroom, tiled floors and counter tops. We installed hardwood floors and poured a concrete path in the garden. We cut down willows that buckled the path and then dug out the stumps by hand. Our yard transformed from 1/3 acre with 7 trees to an oasis with a pond, a path, several seating areas, a couple of small bridges and lots of flowers and shrubs.
Along the way I began working to improve my neighborhood. I started with a small project by adding a flower bed to the monument sign. That single neighborhood improvement escalated during the height of the foreclosure crisis, when my husband and I mowed the grass for seven vacant homes, plus two adopted locations and one elderly neighbor.
In 2010, my friends and I masterminded a great project:  We replaced the old tired bushes, overgrown and filled with poison ivy with a rose garden at the Dale City Commuter Lot. For three years I spearheaded a project called "Neighborhood Pride Week" Volunteers spent a week shoveling up sand, edging sidewalks, sweeping, cutting back overgrown bushes and trees, digging grass out of walks and curbs and gutters. We planted a dozen rose bushes at the Dale City Library.
Through all of this, my husband and I invested in tools and equipment to make our work faster and better. At one point, we had four gas powered edging machines! I'm happy to report we've only two left…unless you count the stick edger, then we still have three.
We're slowing down now. We still maintain two Adopt a Spot locations, we still do community maintenance in our neighborhood. We still take care of the roses at the commuter lot and we organize and participate in cleanups, but I'm hoping those days of hoisting 75 pound contractor bags filled with sand and dirt removed from the curbs are over.
Now, I want to know who is stepping up to the plate next.  I'll be glad to help you organize, plan, staff, and source, but I don't think I'm up for any more high temperature, dust cloud producing, noisy jobs.
I'll still work all day…just put me in the shade!
Post Your Email Notices, Press Releases, Event Fliers, and Photos
Subscribe to the weekday Breakfast Links email FREE!
Get
updates straight to your inbox.