Healthcare Expansion Focus of Anderson – Barker Bi-Partisan Town Hall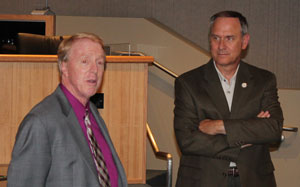 WOODBRIDGE, Va. — A bi-partisan town hall meeting quickly turned to debate over Medicaid expansion in Virginia.
State Senator George Barker (D-Fairfax, Prince William) and Delegate Richard Anderson (R-Prince William) on Wednesday night got an earful of opinions from Prince William County residents who support or oppose growing the federal healthcare mandate, known as Obamacare.
Gov. Terry McAuliffe in 2013 campaigned for office on a plan to vigorously expand Medicare in the state only to come up short after the General Assembly session that concluded earlier this year. The move would have put Virginia on a list of states like Arizona, Arkansas, Colorado, Rhode Island, and Washington, D.C. that are already expanding their Medicare programs.
Under the law, the U.S. Government will cover 90% of the costs in the early years and then phase down the number of dollars they provide in later years. Some have likened Medicare expansion to Social Security funds which some fear may dry up.
"I'm worried that in 10 years from how the burden to pay for all of this will fall on the State of Virginia, and I don't like the idea of borrowing money from the Federal Government to pay for this," a man said.
Others challenged Anderson and Barker to expand Obamacare in the state and provide insurance for some 350,000 or more that otherwise do not have access to it.
"Governor McAuliffe campaigned on the issue and it's not like he changed his mind," said Barbara Paceiejewski, of Lake Ridge.
The Medicaid Innovation and Reform Commission (MIRC) was established last year to find a way to move forward on healthcare expansion in the state, but Barker said the commission is now dormant and has not held a meeting since April.
"The commission is no longer functioning. They've had lots of meetings, and a lot of information has been passed around, but there's been no solid discussion on the matter," said Barker.
Barker supports the expansion and says Virginia is already paying into the federal healthcare system but, since the state will not expand the program, does not recoup the tax monies given to the feds. Anderson does not support the current plan to expand healthcare in the state and cited worries about the national debt.
"I'm concerned about one number: $17 trillion – our national debt. I know work as been done to improve the deficit but I'm worried about the overall budget and how we're going to pay for this program," said Anderson.
With Democrats still pushing for expansion, Republican House of Delegates William J. Howell said late Wednesday the General Assembly will return to Richmond for a special session in late September to once again take up the issue. That session will come after McAuliffe is expected to announce his plan to expand the program in the state.
Other bills
Both elected officials also talked about their legislative successes during the annual General Assembly session that wrapped up earlier this year.
A bill from Barker allows U.S. servicemen and women just back from deployment more time to have their car inspected in the event their inspection expired while deployed. Another allows employers hit by current hard economic times to reduce the number of hours worked by employees to two to three days a week, allowing them to collect state unemployment benefits for days not worked. By reducing hours worked, it prevents a company from having to fire trained employees only to have to hire and train new employees when business picks back up, said Barker.
Anderson was able to pass a bill that requires background checks for small in-home daycare providers in an effort to make daycare providers safer.
"Had background checks been done on some previous in-home daycare providers, certain daycares wouldn't be allowed to operate, and parents wouldn't have entrusted their child to a problematic daycare," said Anderson.
Post Your Email Notices, Press Releases, Event Fliers, and Photos
Subscribe to the weekday Breakfast Links email FREE!
Get
updates straight to your inbox.