Updated: Motorcycle Club Calls for Riders to Help Escort Fallen Marine Back Home to Stafford County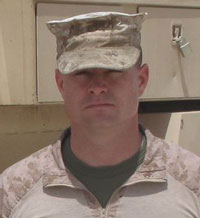 UPDATED 7 a.m. June 26– Motorcyclists will rally in Dale City before heading to Dover, Del. to escort the body of Staff Sgt. David Stewart back to his home county of Stafford.
Here's the latest from the Strength and Honor Motorcycle Club:
Here's the latest info on the escort. We will be rallying up at the I-95 Rest Area, mile marker 155 Northbound (Prince William County, VA) @0700 Friday 6/27 and heading to Dover, DE.
We will stage outside of the base (exact location TBD) and the escort of Staff Sergeant Stewart will begin at approximately 12:00 PM heading back south. We will publish the staging area outside of Dover AFB as soon as we have it for those who want to meet there. This will be a law enforcement escorted ride and therefore you must be at the beginning point in Dover and stay with the ride until its conclusion in Stafford.
Due to safety concerns for all riders and especially the LEO's conducting the escort, dropping off or jumping in along the route will not be allowed due to the additional risk associated.
This escort is for motorcycles only, no cages please. This is the best info we have at this point so please understand, this is subject to change. We will post any changes/updates as we receive them.
All are welcome as long as you can make the entire ride. You should have at least a 160 mile fuel range to be safe.
UPDATE 9 p.m. — Bryant Halstead with Strength and Honor Motorcycle Club sent us this update via email urging riders who want to participate in escorting Staff Sgt. David Stewart's body back to Stafford.
Here's a portion of the email message:
We are working with law enforcement representatives along the route to coordinate safe passage for all. Stafford Sheriff's Office Motor Unit is the lead entity on this and will be making the trip to Dover, DE to lead this escort back to Stafford.
It has been stipulated that anyone wishing to participate in this escort must commit to make the entire ride from Dover, DE to the end point in Stafford, Va.
Also, this is approximately a 160-mile trip and there may or may not be a stop so please make sure you have a bike that has that fuel range.
7:30 a.m. 
STAFFORD COUNTY, Va. — Marine Staff Sgt. David Stewart was killed in Afghanistan on Friday.
His body will be shipped to Delaware where his family is waiting to receive it.
Now, the Strength and Honor Motorcycle Club – a group made up of police, fire, EMS workers, and current and past military members – wants to escort Stewart's body back to his home County of Stafford.
"So, what we're trying to do is to coordinate with many other public safety-oriented motorcycle clubs as we can, and really anyone who wants to participate" said Bryant Halstead, with Strength and Honor Motorcycle Club.
It's not yet known when Stewart's body will be returned to Delaware and will then be ready to be retuned home to Stafford County. It could be as much as four to seven days, according to Halstead.
Stewart is one of Stafford's own, and this is a fitting tribute for a husband and father of two.
"These are the types of causes that we support in respects for the folks who have made the ultimate sacrifice and also helping those who are injured in the line of duty, and helping family members of those who are killed in action," Halstead said.
If you want to ride and help escort Stewart back home, you can go to the motorcycle club's Facebook page to send a message to let the group know you're available.
Two other U.S. Marines were killed in the hostile fire incident: Lance Cpl. Brandon J. Garabrant, 19, of Peterborough, New Hampshire, and Lance Cpl. Adam R. Wolff, 25, of Cedar Rapids, Iowa.
Post Your Email Notices, Press Releases, Event Fliers, and Photos
Subscribe to the weekday Breakfast Links email FREE!
Get
updates straight to your inbox.