Potomac Shores VRE Station Gets Green Light; Improvements to Stafford Stations Coming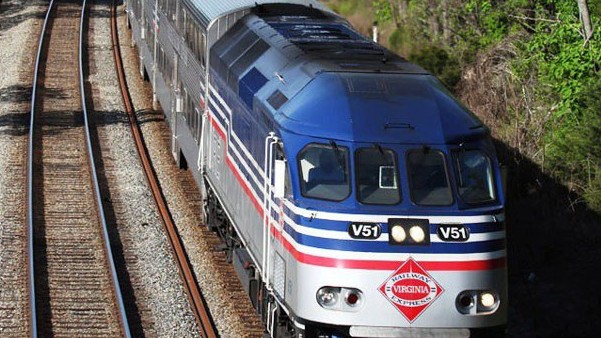 First on PotomacLocal.com 
PRINCE WILLIAM COUNTY, Va. — A new Virginia Railway Express station in Prince William County, and improvements to two stations in Stafford County are coming thanks, in part, to a private developer building the Potomac Shores neighborhood near Dumfries. 
Gov. Terry McAuliffe next month is expected to announce the construction of a new VRE station at Potomac Shores, a new 2,000 acre community on the banks of the Potomac River in Prince William County.
The long-awaited commnuter rail station is expected to be a catalyst of growth for the area, one that will attract new residents to homes, as well as workers to new offices and businesses to a future town center that will be erected around the VRE station.
While home construction at Potomac Shores is well underway, the VRE station has been a lynchpin in the development of the property on the Potomac River that last month opened its public golf course designed by golf great Jack Nicklaus.
"The new station will bring things to the peninsula that we need," said Prince William County Potomac District Supervisor Maureen Caddigan. "…It will have a tremendous impact not just for folks who live in the area…they will now be able to get onto the trains and [stop commuting] on Route 1."
The new station will be funded entirely by California-based developer, SunCal, which is developing Potomac Shores.
The new station won't be the only VRE improvement funded by the developer. New concrete waiting platforms will be added at the Leeland and Brooke VRE commuter rail stations in Stafford County.
The new platforms, at a combined cost of about $30,100, will be built across from the current station platforms on the opposite of the tracks. They should provide more capacity for waiting passengers and should improve on-time performance throughout VRE's Fredericksburg line.
The platforms will be paid for, in part, with funds from SunCal and by federal and state funds. As it sits now, SunCal will cover half of the cost of the construction of the new platforms and and public monies from the Rail Enhancement Fund will cover the other half.
An an official announcement Gov. Terry McAuliffe about the extended platforms is expected to be forthcoming and included in the announcement about the new rail station in Prince William County.  Talked about since the early 2000s, construction of the Potomac Shores station — once known as the Cherry Hill station — has long been held up by the recession and the slow-to develop neighborhood.
"The Governor has always been a strong advocate for rail and public transportation that will ease congestion and provide more pathways for families, our workforce, and businesses to connect with communities within and outside the Commonwealth—something especially critical for Northern Virginia," a McAuliffe spokeswoman said.
The platform extensions along the rail line are just some projects that will receive some $13.1 billion in transportation funding allocated to them over the next six years.
"This will be a much needed improvement that ties in nicely with out parking lot expansions and proposed increased of service," said Stafford County Aquia District Supervisor Paul Milde.
Milde also has a seat on the VRE Operations Board and says the platform expansions will come at a time when the parking lots at the Brooke and Leeland stations have been expanded, and at a time when VRE is planning to add a new train to the Fredericksburg line to increase capacity on its system, to carry more commuters from the Virginia suburbs to Washington, D.C.
In Northern Virginia, the funding list includes $35 million to complete a environmental study of Interstate 66 from the Capital Beltway to Haymarket — a stretch of highway where the addition of high-occupancy toll lanes are being considered, much like the ones being built now on I-95 in Prince William and Stafford counties.
A total of $50 million will also be spent to design a new interchange at I-66 and Va. 28 in Centreville, just west of Manassas. Other improvement projects in the state's six-year plan also include the addition of a mile and a half long shoulder lane at the end of the Express Lanes on Interstate 495, just north of Tysons Corner, which will ease congestion by accommodating more vehicles.
Of the money going for transit improvements, McAuliffe's office noted that funding for a transit center in Arlington, transit funding for the 95 Express Lanes project, and the Potomac Shores VRE station are top priorities.
Construction of the two new platforms in Stafford County is slated to move forward in July 2018 and should open for service two years later.
New station platforms will be added to the Lorton station and Rippon station in Woodbridge and each is slated to open in 2017 and 202o, respectively. These platforms are not apart of the packaged improvements associated with the Potomac Shores VRE station or platform extensions in Stafford County.
When the new Potomac Shores VRE station opens,  Caddigan says it will take more cars off area roads and provide a new commuting option for those living in Prince William County developments such as Southbridge, Brittany, Ashland, and Montclair.
Currently, those who live near Dumfries have the option of driving to VRE stations in Quantico and Woodbridge.
Post Your Email Notices, Press Releases, Event Fliers, and Photos
Subscribe to the weekday Breakfast Links email FREE!
Get
updates straight to your inbox.