Stafford Explores Acquiring Abandoned Home on U.S. 1, Demolishing It, Erecting Traffic Light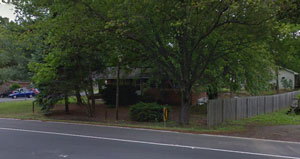 NORTH STAFFORD, Va. — The donation of a home could lead to a better, safer U.S. 1.
Stafford County leaders are expected to learn more this week about a home at 3298 Jefferson Davis Highway in North Stafford. The home on the corner of U.S. 1 and Woodstock Lane is owned by Janet Borden, and the total property is valued at $114,300, according to county documents.
The house sits on the opposite corner of Taylor's Grocery / Aquia Creek Outfitters.
If donated, the home would be demolished to make way for an improved intersection that would include a signal light at U.S. 1 and Woodstock Lane. This would mean drivers traveling on nearby Telegraph Road who are used to going to the southernmost point of Telegraph Road and turning onto U.S. 1 — an intersection that sits at a dangerous angle — could instead turn onto Woodstock Lane from Telegraph Road, and then turn left onto U.S. 1 south or right onto U.S. 1 north.
It would remove the need for drivers to make a turn at a dangerous intersection where Telegraph Road meets U.S. 1 at the Aquia Crucifix, a monument symbolizing the Brent Colony in Stafford County that encouraged members of all faiths to settle in the area in the 1640s.
"Drivers going south of Telegraph Road are forced to make a left turn on Route 1 at what is an intersection that is at a bad angle, which makes it hard to make a left turn," said Stafford County Deputy Administrator Keith Dayton.
There is not a signal light at the intersection at the crucifix, and making current traffic conditions worse is ongoing roadwork on a bridge that carries traffic on U.S. 1 over Aquia Creek. Traffic backs up here, especially when drivers on a congested Interstate 95 jump onto U.S. 1 during rush hour.
VDOT is studying just how much a signal light at U.S. 1 and Woodstock Lane would cost as well as how it would be built, said Dayton. The results of the study could be made available in about two weeks.
Improvements will also need to be made to Woodstock Lane. Currently, the narrow road is a difficult one for large vehicles to travel.
"It's hard for school buses to get down the road because it's so narrow and it's almost impossible for big trucks to turn onto it," said Dayton.
The house at 3298 Jefferson Davis Highway is not occupied at this time and is uninhabitable, according to county documents. Stafford would pay all closing costs for the sale as well as cover the $10,000 cost of demolishing the house.
*This story has been corrected.
Post Your Email Notices, Press Releases, Event Fliers, and Photos
Subscribe to the weekday Breakfast Links email FREE!
Get
updates straight to your inbox.