Oh, Snap! Beach Shop Bans Selfies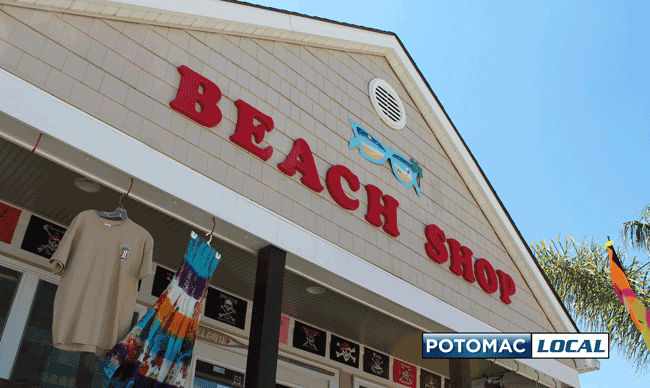 COLONIAL BEACH, Va. — It's a warm summer day. The boardwalk is bustling with activity.
The sound of motors can be heard as their propellers churn the water. Children are laughing and splashing while their parents are curled up on the sand with a book in hand. Colonial Beach, during the annual Potomac River Festival which draws tens of thousands to the small river town on the banks for the Potomac, seems to welcome everyone.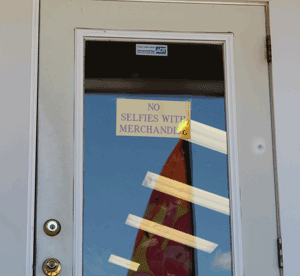 And inside the only Beach Shop on the boardwalk everyone and everything is welcome – except for "selfies." The store sells most any items one would find at any beach shop, like beach towels, t-shirts, sunglasses, and hats.
But on the door, there's the can't-miss sign printed on yellow paper and taped to the door that states "No Selfies with Merchandise."
"I have four grandchildren and if I didn't have them I wouldn't even know what a selfie is," said Mary Ann Day.
She owns and operates half of the Beach Shop and her daughter owns the other (her part of the store starts just beyond where the lollipops sit on the front counter).
Day posted the sign after she got sick and tired of people coming inside her store, placing hats on their heads, sunglasses on their faces, and the using their cell phones to snap photos, or selfies, of themselves to share on social media sites like Facebook or Instagram.
"They run around here and take a photo of themselves with the item…they wear hats… hold up shirts… when they leave everything is a mess and we have to go around cleaning up after them," explained Day.
So, the seflie was promptly banned. But the selfie is nothing new.
People have been taking photos of themselves since the first photos were taken since before the turn of the 20th century. With the rise in popularity of the camera phone in recent years, celebrities, politicians, to just about anyone with a social profile page have taken one.
Even President Obama posed in a selfie with Danish Prime Minister Helle Thorning-Schmidt and British Prime Minister David Cameron at the funeral of Nelson Mandela in December.
Matt, 26, made the 45 minute drive from his hometown of Fredericksburg to Colonial Beach and saw the sign posted on the store's front door. "What kind of store is this?" Matt curiously asked of his group of friends.
So, all four went inside. When they came out, they said there were even more signs posted inside the store.
"One of them said 'don't even try it – you're on camera,'" said Matt. The sign serves as a warning to would-be thieves.
"I really didn't see anything worth taking a photo of," said Jessica, 30, Matt's friend.
There is, however, one thing lots of people take photos of.
"The funny part is lots of people take a selfie with the 'no selfies' sign," said Day.
And that is OK, she says.
Post Your Email Notices, Press Releases, Event Fliers, and Photos
Subscribe to the weekday Breakfast Links email FREE!
Get
updates straight to your inbox.