Rail Festival Celebrates Manassas' Heritage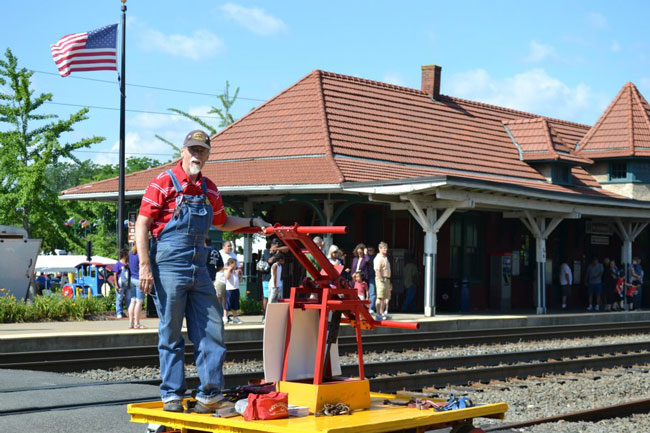 MANASSAS, Va. — A lot goes into setting up the train displays. There's the wiring that supports the electric trains, the alignment of the track, and all of it doesn't go together until the all of the modular pieces miniature town display are completely leveled.
The whole process takes about two hours to complete but once it's done the world of model railroading can be an ever expansive one.
"From there it builds like building blocks. We can have all kinds of sizes from 8-feet long up to as big as we can build," said Bruce Strickland, with the Potomac Module Crew, a group of model railroad enthusiasts that like to display their track and trains at shows in Maryland, Virginia, and Washington, D.C.
Their trains will be on display this Saturday at the 20th Annual Railway Heritage Festival in Downtown Manassas. Strickland, who specializes in making sure the tracks are properly wired for electricity, says his trains will be set up underneath Harris Pavilion. There will also be memorabilia, vendors, and live music all to celebrate what put Manassas on the map – the railroad.
The festival runs from 10 a.m. to 4 p.m. Saturday. And visitors will be able to do more than just look at trains, they'll be able to ride one.
Virginia Railway Express will offer rides on one of their commuter trains from Manassas to Clifton, and back. While the 10 a.m. train is sold out, tickets for trains leaving Manassas at 11, noon, and 1 p.m. are still being sold for $5 each. Riders are asked to arrive in Downtown Manassas early enough to purchase tickets and board the train before it leaves.
Over the years, the festival has become more than just a railroad festival and has evolved into a cultural event. Now, many people come dressed in Civil War ear uniforms and clothing.
Strickland, whose been coming to the festival since the beginning, remains a purist.
"I'm just there for the trains," he said.
Post Your Email Notices, Press Releases, Event Fliers, and Photos
Subscribe to the weekday Breakfast Links email FREE!
Get
updates straight to your inbox.