James L. Long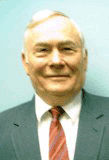 James L. Long, 77 of Huntington passed away Friday evening, May 30, 2014, at the Florida Hospital Memorial Medical Ctr., in Daytona Beach; FL. James graduated from Huntington High Class of 1955
After graduation, he joined the Army and served in Korea. After his discharge, he returned to Huntington and then moved to Chicago, where he obtained a degree in Engineering. After a position with Honeywell in Phoenix, he was hired by the US Postal Service as a postal engineer. He traveled the country redesigning postal centers for smoother operations.
He was a football coach for the Eastern Prince William Sports club for 40 years, winning numerous championships. An avid hunter since his youth, he enjoyed the outdoor life. He retired from the Postal Service in 2004 and returned to his home town of Huntington. He spent his retirement working on rental houses and local politics. After a run for Huntington Mayor in 2008, he was elected as a councilman for the 3rd district, the same seat his father, Harold (Had) Long held.
Jim was born on December 13, 1936 in Huntington, the son of Harold and Marjorie (Mitten) Long.
He was united in marriage to Vera Geist for 27 years and later was married to Sandra Wenholz for 23 years.
Survivors include a daughter: Debra (Vince) Jacobs of Woodbridge, VA; three sons: David Long of Ormond Beach, FL; Jerald "Jerry" (Penny) Long of Huntington; Andrew "Andy" Long of Edgewater, MD; seven grandchildren: Gina McClanahan, Jeremy White, Eric White, Thomas Long, Jason Long, April Chopson, Jerald Long, Jr. and eleven great grandchildren.
He was preceded in death by his parents and a son: Theodore Long.
Visitation will be held on Friday, June 6, 2014 from 2:00 – 4:00pm and 6:00 – 8:00pm at the Myers Funeral Home Huntington Chapel, 2901 Guilford Street, Huntington, Indiana.
Funeral service will be held on Saturday, June 7, 2014 at 11:00am at the Myers Funeral Home Huntington Chapel.
Interment will be at the Pilgrims Rest Cemetery.
Memorial donations may be made out to VFW Housing Fund in care of Myers Funeral Home, 2901 Guilford Street, Huntington, IN 46750.
To sign Mr. Long's on-line guest registry visit www.myersfuneralhomes.com