Moser: Sharing Good, Community News is Easy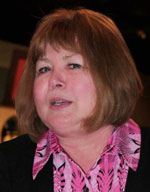 Social media is a game changer. For those readers not familiar with "viral" in any context but a cold, it works like this: I write an article. You read it. You share it on Facebook, Twitter, Google Plus, and LinkedIn.
(If there's a photo, you may share on Pinterest and Instagram!)
Your friends see what you shared. They're impressed because you are so smart. Your friends share the article. Then friends of your friends share.
Result? I get my message out to a gazillion people and you helped me do so! If I was selling a product, you'd be making me a millionaire!
Unfortunately, I don't write to make money.I write to help people become informed about our community, raise awareness of issues, praise the good and condemn the not so good. I try to educate without preaching, share the joy without simpering, and inspire action to replace inertia.
More than anything, I want to engage you in the business of living life in Prince William County. I think it is important to get away from the television that is dulling your vibrant thoughts and get out here in your community to interact with your neighbors and find some worthy causes that deserve your attention.
Not everyone wants to go tramping through muddy creeks or walking along busy highways picking up litter. (I know, right? Who wouldn't want to do THAT?) So maybe volunteering for an environmental group or the VDOT Adopt a Highway program isn't for you.
Perhaps you have young children and you are volunteering for their soccer games or for the PTO. That's great news, but I still ask you to step outside your family circle into the community circle. I received an email from a gentleman the other day, concerned for his three girls. Here is part of that email:
"I am looking for some volunteer opportunities for my family that would involve homeless and helping those that are hungry.  We could help at a food bank but I would like my children to experience how it feels to directly help those in need.  I fear that they are becoming too insulated to the challenges that most families deal with on a daily basis"
I am so appreciative of people like the author of that email and I was glad to connect him with some organizations and activities that will help him and his daughters fulfill their mission. More than anything I was thrilled to know somebody out there gets it! Even if I can't coerce you into participating in an event, joining an organization, volunteering for some group, at the minimum, you can share information.
Everyone can do that. PotomacLocal.com makes the sharing so easy by providing buttons to click at the end of the column. Use them to help spread content and create viral without using a box of tissues!
Post Your Email Notices, Press Releases, Event Fliers, and Photos
The FREE email packed with local news
The FREE email packed with local news
The FREE email packed with local news
Sign Up