Crane Keeps Watch over Nokesville K-8 School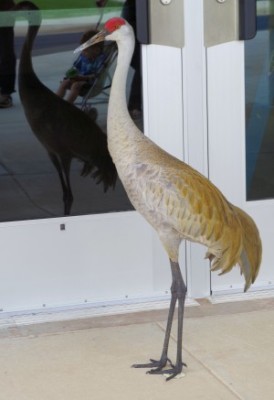 NOKESVILLE, Va. — The annual Nokesville Day draws many natives for a day food and fun. This bird, which was keeping watch over the new Nokesville kindergarten through eighth grade school, is not one of those natives.
Chris Connell, of Locust Grove, Va., saw the bird while with her husband and daughter when they were leaving the Nokesville Day festival. They came to see her 12-year-old son drive a tractor in the annual parade.
Afterward while on the way back to their parked car outside the new K-8 school on Aden Road, they saw the large bird.
"We didn't think it was a real bird at first," said Connell. "I started taking pictures and the bird let us get really close to it."
The bird appears to be a Sandhill Crane, which can be found year-round in Cuba, and in parts of the western U.S. when it migrates. But rarely in Virginia.
"I hear the most likely scenario is that it is a pet that escaped from a nearby farm, although it could be wild," said Kim Hosen, director of the Prince William Conservation Alliance. "I heard a story about a previous sighting where everyone was excited but the bird turned out to be tame. However, it could be a wild bird, Sandhill Cranes are rare but have been seen in [Northern Virginia], including at the Occoquan Bay Refuge."
Connell said the bird seemed to be at home at the school, almost as it was keeping watch over the grounds. The crane began pecking at a glass door at the front entrance of the school after he saw his reflection in it.
Since the crane took such a liking to the new school building that will open in September, perhaps school officials will take notice.
"Maybe the school could use the bird as a mascot for the school," said Connell.
Post Your Email Notices, Press Releases, Event Fliers, and Photos
Subscribe to the weekday Breakfast Links email FREE!
Get
updates straight to your inbox.