Prince William Police Reviewing Viral Video of Arrest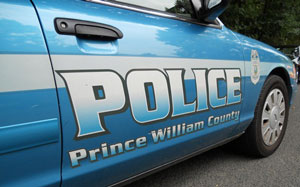 MANASSAS, Va. — A viral video shows a man being arrested at a McDonalds across from Manassas Mall.
Later, the person shooting the video with their cell phone camera was told by another officer, who identified himself as Jennings, to stop filming and claimed the photographer was interfering with the arrest.
The photographer eventually heeded the police officer's warning and went back inside the restaurant.
We don't know what led to the arrest as there was no information made public in the police department's daily crime log posted to their website and Facebook page. The department did post a message to their Facebook page about the video:
Recently, a video involving one of our officers was posted online. This video has caused many of you to reach out to us about the officers' actions.

We wanted to take this opportunity to respond to the comments that we have received. First, we would like to point out that it is our policy not to impede on anyone's right to video our actions in public so long as there is no obstruction of or interference with police actions or anyone else's rights or safety.

Secondly, we are reviewing the video and the overall incident to determine if there is anything we should strive to do better. We always accept and encourage constructive criticism or compliments from our public regarding our officers' actions and/or behavior.
The video first appeared on YouTube but has since been taken down, but not before it was posted to photographyisnotacrime.com where it lives on.
The county's top elected official Prince William Board of Supervisors Chairman Corey Stewart told PotomacLocal.com he had not yet viewed the video.
Several people commented on the police department's Facebook page about the video.
"I've lived in the county for 39 years and think we have a solid department. You never hear about [Prince William County] officers shooting dogs or hiding behind the "thin blue line" after allegations of wrongdoing. PWCPD's brass seems to be intolerant of anything other than complete professionalism," stated Bradley Caricofe. "I don't think the officer was overly abusive in this case, however, I am left wondering why he had the right to order the patron back inside. The citizen did not appear to be interfering with their work, and should have been free to go anywhere he or she pleased."
"Situation was under control. Suspect was handcuffed and in the back of the squad car. The customer filming would have been in no way interfering," stated Rob Hawkey. "I would like for the department to come up with one believable reason as to why this guy could have impeded this situation. This cop was way out of line in trying to force his authority over this guy."
A link to the video did not accompany the announcement posted to the department's Facebook page. Many who commented on the page have the department high marks for transparency.
Post Your Email Notices, Press Releases, Event Fliers, and Photos
Subscribe to the weekday Breakfast Links email FREE!
Get
updates straight to your inbox.