Woman Hit Twice While Crossing Road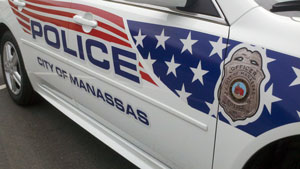 MANASSAS, Va. — Police said a woman was hit by a car twice while trying a cross a road.
More in an unedited police press release:
Hit and Run
At approximately 12:20PM on May 1, 2014 Manassas City Police met with a citizen for a report of a hit and run.  The victim, an adult female, told officers she had just been struck twice by a vehicle while crossing Brinkley Ln at Center St in the pedestrian crosswalk.  As officers accompanied the victim to the hospital where she received medical attention for non-life-threatening injuries, the suspect, Michael P. DENIGRIS, came forward and reported to Police he had been involved in the accident.  DENIGRIS, 68, of 9181 Big Springs Loop, Bristow, VA 20136 was charged with felony hit and run and held on a $2,000.00 bond.  He has a pending court date of June 10, 2014.
Post Your Email Notices, Press Releases, Event Fliers, and Photos
The FREE email packed with local news
The FREE email packed with local news
The FREE email packed with local news
Sign Up