Stafford to Celebrate Founders Day with Parade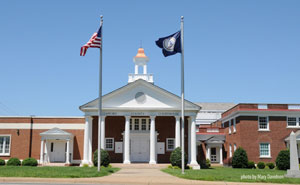 STAFFORD COUNTY, Va. — Thousands are expected at the center of Stafford County on Saturday to celebrate Founders Day.
The event will feature a parade from Stafford Hospital to Brooke Point High School, and is one of several planned this year as the county celebrates its 350th Anniversary.
A portion of Courthouse Road will be closed in the area of U.S. 1 for the parade on Saturday.
Here is a list of events and what to expect:
• 9:00 a.m. – 11:30 a.m. – Parade (starts at Stafford Hospital and ends at Brooke Point High School). Highlights include:
• Stafford County High Schools Marching Bands
• Mayor of Stafford, England
• Two World War II Veterans, John Kessler and Charles "Chuck" Neighbor, both survivors of the storming of Normandy Beach
• Reenactors
• Antique Military Vehicles
• Miss Stafford County
• John Smith Longboat Replica
• Noon – 5:00 p.m. – History Square, Brooke Point High School
• World War II Flame Thrower
• 1812 Cannon
• Dinosaurs of Stafford County
• Photos with George Washington and Abe Lincoln
• The Patawomeck Tribe's Native American community including a 40-foot longhouse
• Meet John Smith and Pocahontas
• Noon – 5:00 p.m. – Stafford Fine Arts Festival, Brooke Point High School
• The festival will feature students' art exhibits and student performances
• 1:00 p.m. – 3:00 p.m. – Via Colori Street Painting Demonstration, History Square
The fine arts festival and history square activities will also be available for visitors on Sunday, too.
If you're thinking about attending the event, there are some things you should know about parking. This from the county's website:
Parking will not be available along the parade route. Visitors may park at the satellite parking lots listed below. Parade goers should allow extra time for parking and riding one of the shuttle buses that will provide transportation to and from the parade.
• Parking Lots
• Stafford Government Center
• Courthouse Road VDOT Commuter Lot
• Brooke VRE Lot
• Route 17 VDOT Lot
• Disabled Parking Lot – Stafford Elementary School
• Shuttle Buses
• Shuttles will be available to transport visitors from these parking lots to and from the parade and Brooke Point High School on both Saturday and Sunday throughout the day.
• From 7:30 a.m. – 6 p.m. on Saturday and 11 a.m. – 6 p.m. on Sunday
This event comes after a successful ice skating event that drew thousands to Stafford Marketplace to kickoff the 350th celebration.
County leaders say this weekend's event is happening in "downtown" Stafford, near the county's iconic courthouse. While the county lacks a downtown area, the county has previously identified this area as ripe for developing a walkable center of community in the years ahead.
Post Your Email Notices, Press Releases, Event Fliers, and Photos
Subscribe to the weekday Breakfast Links email FREE!
Get
updates straight to your inbox.